Ongoing travel restrictions have contributed to a 2.4% year-on-year widening of AirAsia Group's first-quarter net loss, to MYR976 million ($235.8 million).
Revenue for the three months ended 31 March declined 87% to MYR298 million, compared with the same period last year. The group attributes this to "limited travel caused by the lockdown imposed in Malaysia since January 2021".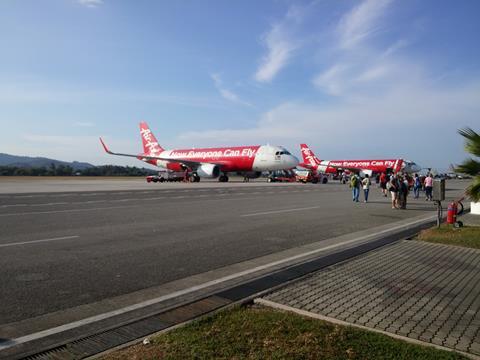 AirAsia Group says that MYR527 million of its first-quarter net loss was related to depreciation of right-of-use assets and interest on lease liabilities, "despite successful negotiations for deferrals with lessors".
The group reports improvements in passenger numbers across some of its units in March, compared with the previous month. Passenger numbers at AirAsia Malaysia increased by 84%, while increases of 57% and 29% were recorded at AirAsia Philippines and AirAsia Indonesia, respectively. AirAsia Thailand "more than doubled" its passenger numbers in March from February.
Fixed costs across the AirAsia Group fell 54% year-on-year in the first quarter.
While AirAsia Indonesia operated close to 70% of its pre-Covid domestic capacity in the first quarter, recovery at AirAsia Malaysia "remains subdued" as a result of lockdown measures in the country, states AirAsia Group president Bo Lingam.
"We expect domestic operations in Malaysia and Philippines will be below 25% of pre-Covid levels until at least September 2021, while more of the population are receiving their vaccinations," he adds.
AirAsia's cargo and logistics unit Teleport is "actively working on establishing a cargo-only core network to increase independence from passenger networks during these difficult times", states Aireen Omar, president of AirAsia Digital. To this end, the unit is "in the midst of leasing a freighter aircraft" and converting two Airbus A320 passenger jets to freight-only aircraft.
Sufficient liquidity is a "key priority" for the group, notes chief executive Tony Fernandes, pointing to a private placement that raised MYR336 million in the first quarter and the group's aim to raise MYR1 billion under Malaysia's Danajamin guarantee scheme. The group is also continuing negotiations with lessors over the restructuring of aircraft leases.
"With vaccinations, better testing capabilities, the potential of global digital health passports, further formation of travel bubbles in ASEAN, end-to-end contactless procedures and many digital products already in place for AirAsia, we remain optimistic of a recovery within the next two years," adds Fernandes.