Air India has kickstarted a review process that will ultimately result in the merger of low-cost carriers Air India Express and AirAsia India, after fully acquiring the latter operator.
The merger is expected to be completed by end-2023, says Air India in a statement on 2 November, hours after AirAsia Aviation disclosed its divestment of its 16% stake in AirAsia India to Tata Sons-owned Air India, bringing Tata's stake up to 100%.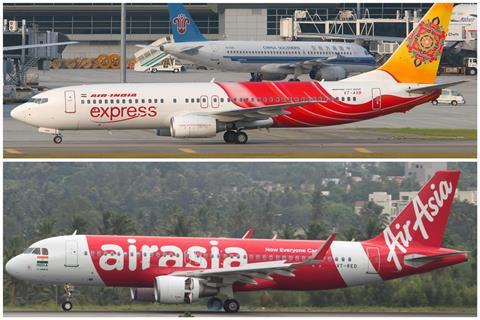 A working group – led by the heads of AirAsia India and Air India Express – will "evaluate and execute" the integration of the two airlines.
Air India says the merger could take place "through a possible scheme of merger or otherwise", and will take about 12 months, "with network and other synergies to be realised progressively during that period".
AirAsia India is an all-Airbus operator, with a fleet of 28 A320s operating domestic flights from its Bengaluru hub. Air India Express, which was founded in 2005, flies short-haul international flights, connecting India with Southeast Asia and the Gulf region. The Kochi-headquartered carrier has a fleet of 24 Boeing 737s in operation.
"Consolidation of these two airlines, both of which operate as low-cost carriers, will be undertaken as part of the restructuring roadmap that is being envisioned for the Tata group's airline business and is expected to bring customer, revenue, cost and operational benefits through broader adoption of each airlines' best practices, systems and routes, and the combined entity's greater scale," adds Air India.
The full acquisition of AirAsia India by Tata comes after the conglomerate filed an application with the country's antitrust authorities to acquire full control of the carrier earlier this year.
Since Tata successfully acquired Air India from the Indian government, analysts have suggested that the group will merge AirAsia India with Air India Express, as well as Vistara – its full-service joint venture with Singapore Airlines – with Air India.
In October, SIA said it was in talks with Tata over a possible merger of Vistara with Air India, stating it was seeking to "deepen the existing partnership" between both parties. Discussions on Vistara's future are still in progress and no agreement has been reached.