Capital A, the parent company of low-cost airline group AirAsia Aviation, is mulling a listing on the US stock exchange, a move it calls "attractive" for boosting its liquidity and profile.
The disclosure comes as Capital A wrapped up its fifth annual general meeting, where shareholders approved its future business strategy, and auditors gave the group a clean audit report.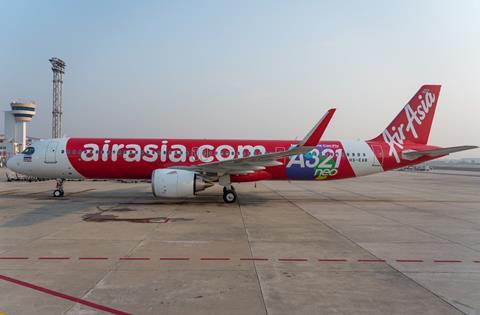 In a statement following the meeting, Capital A chief executive Tony Fernandes says the company is "evaluating all fundraising options" including "private placement, direct listing or listing via a merger with a Special Purpose Acquisition Company (SPAC)".
Fernandes teased the prospect of listing either AirAsia Aviation or its digital businesses in the USA, adding: "[Listing] in the US market would be attractive given the liquidity and the diverse investor reach that it can provide." The statement does not elaborate further.
Fernandes notes the group's airline business is seeing a strong rebound after being pummelled by the coronavirus pandemic.
"Our airlines have strategic plans in place to paint the skies red once again with a leaner and more robust model for a successful and viable operation for the future," he adds.
Fernandes adds that the clean audit report - provided by auditors EY - "is a key step" in helping to regularise its finances.
Bursa Malaysia in early January labelled Capital A as a 'PN17' company, a categorisation for distressed companies. If the group fails to regularise its finances within a year, it risks being delisted.
Says Fernandes: "The PN17 regularisation plans are on track, which the management team is developing, taking into consideration multiple solutions without proposals for capital dilution or equity raising. We are confident of meeting the deadline to submit the plan to Bursa Malaysia by early January 2023."
In a separate stock exchange filing, Malaysia-based AirAsia Berhad says it will wet-lease an Airbus A330-300 from sister company AirAsia X.
The agreement, which is expected to end on 31 July, is estimated to be worth around MYR2.2 million ($500,000), though AirAsia will be billed on a per-hour basis.
It will cover crew, maintenance and insurance, states Capital A.
AirAsia says it is leasing the widebody as it "plans to increase seat capacity across all markets to meet growing post-Covid recovery in passenger demand".
The carrier adds: "The wet lease … will allow [AirAsia Berhad] to rapidly ramp up seat capacity on trunk routes as well as serve as spare capacity to be deployed during festive and peak travel periods."