Low-cost carrier group AirAsia posted a net loss of MYR5.9 billion ($1.4 billion) for 2020 as revenue slumped 74% and it was hammered by one-off costs during the pandemic-hit year.
But the group remains encouraged that a travel recovery will emerge in the second half of 2021 and that the company will fully recover within two years.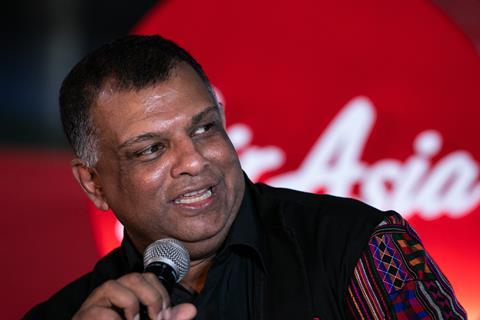 AirAsia Group airline revenues fell 75% during 2020 as it operated just 29% of capacity compared with 2019. That included a 92% slump in revenues in the fourth quarter amid fresh travel restrictions in the region..
The group posted an EBITDA loss of MYR3.2 billion – compared with a profit by the same metric of MYR1.7 billion in 2019. It says that excluding one-off costs – most notably including impairment of assets, receivables and finance lease receivables amounting to MYR1.9 billion, as well as fuel hedging losses of MYR972 million – the group would have posted an EBITDA loss of MYR318 million.
The group's net loss of MYR5.9 billion marks a sharp widening on the MYR283 million it lost in 2019.
AirAsia Group's president for airlines, Bo Lingham, notes that the strong rebound seen in the Malaysian domestic market in the third quarter was "hampered" in the fourth quarter due to further lockdowns
But Lingham points to a five-fold increase in AirAsia Indonesia passenger numbers during the three months ending December 2020 compared with the third quarter, while AirAsia Philippines doubled passenger numbers over the same period.
"Going forward, we expect to see improved stability in our operations as vaccinations continue to be rolled out in phases across all key markets," says Lingham. "Furthermore, our robust business model provides confidence for a fast recovery. Even if borders remain closed, we are well-prepared to rely solely on domestic operations alone this year."
Group chief executive Tony Fernandes adds: "Throughout 2020 we focused on turning the crisis into an opportunity. We accelerated our digital transformation strategy to boost our non-airline contributions to the group. We have used the downtime in flying to lay the foundations for more robust operations post-pandemic."
The heavy loss came despite the group exceeding its full-year fixed-cost reductions target of 50%, and Fernandes believes this demonstrates its commitment towards strict cost-cutting strategies.
"Significant cost savings were delivered through our headcount rationalisation and salary cuts across the group, as well as through negotiations with our supportive lessors and creditors," he says, while also highlighting the sale of its 32.7% stake in AirAsia India and the closure of AirAsia Japan.
"All of these tough decisions were made to ensure a quick recovery in Asean where our brand is strongest," he says. "The encouraging quarterly uptrend in our key domestic markets, especially in Thailand, supports our expectation of an air travel recovery this year.
"With vaccination programmes accelerating around the world, improved testing capabilities, the likely introduction of global digital health passports, formation of leisure travel bubbles in the region and contactless procedures already in place for AirAsia, we are very optimistic that international air travel will resume in the second half of 2021, leading to our full recovery within the next two years."