Grounded long-haul low-cost carrier AirAsia X has unveiled a restructuring plan under which it aims to get debts waived and cut aircraft from its fleet in the hope that it will be able to avoid liquidation and raise fresh equity.
AirAsia X says it "will not be able to meet its debt and other financial commitments in full", and will require "significant payment deferrals and concessions from its suppliers, creditors and financiers".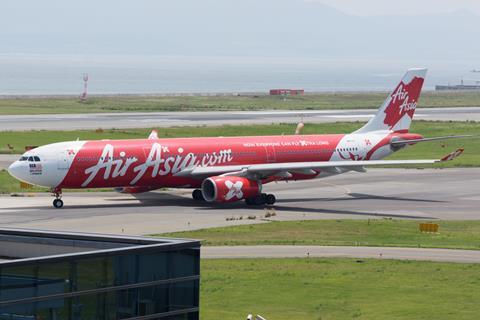 The Malaysian airline is seeking to restructure about MYR63.5 billion ($15.3 billion) of debt into an "acknowledgment of indebtedness" for up to RM200 million, payable annually over five years at an interest rate of 2% per year.
It wants any balance above RM200 million after a cut-off date of 30 June 2020 to be waived, and all existing contracts with creditors to be "deemed terminated". Customers who have purchased flights are to receive travel credits with an extended validity under the plan.
AirAsia X has proposed a 90% reduction of its issued share capital and the consolidation of every 10 ordinary shares into one share. The share capital reduction is expected to raise RM1.38 billion, which the company says would be used to offset its losses. AirAsia X's issued share capital as of 5 October was RM1.53 billion, comprising 4.15 billion shares.
The proposed restructuring is "key to the survival of the group, as well as its ability to remain a going concern", states AirAsia X, adding: "In order to implement the group's revised business plan, AAX will require significant concessions from its suppliers, creditors and financiers.
"The group will also require fresh debt and equity capital, but without rightsizing the group's financial obligations and its financial position, it will not be possible to raise the new funding required to reset the airline."
Shareholder approval for the proposed restructuring will be requested at an extraordinary general meeting, the date of which is to be confirmed. High-court confirmation will also be sought.
Under its revised business plan, AirAsia X aims to emerge as a low-cost medium-haul operator. The airline says it hopes to restart operations with two aircraft in the first quarter of 2021 and gradually resume flights to all destinations by the end of next year.
AirAsia X plans to operate a fleet of "up to 25 [Airbus] A330 aircraft" and says it "remains engaged with all key business partners" over contracts and agreements. Cirium fleets data shows that Air Asia X has a fleet of 23 A330-300s, 21 of which are in storage. The carrier owns five A330s and leases the rest from various lessors. It also has orders with Airbus for 10 A350s, 76 A330neos and 30 A321XLRs.
Last month it emerged that Singapore-based lessor BOC Aviation had filed a claim in a London court against AirAsia X for nearly $23 million, pertaining to the lease of four aircraft. Should its restructuring plan proceed, the airline intends to raise up to RM500 million, some of which is expected to come from a government-guaranteed loan.
"It has been extremely difficult for the airline during this period as we had to ground all scheduled flights, implement salary cuts and retrenchment for the first time in the company's history as a consequence of the pandemic," states AirAsia X chief executive Benyamin Ismail.
"Similar exercises are likely to continue during the restructuring process, but our focus is to ensure a successful restructuring to keep as many jobs as possible."
Subject to approvals, AirAsia X says it expects to complete its restructuring proposals by the end of the first quarter of 2021.