New Caledonian carrier Aircalin is "working on" opportunities to grow its Asia network, following the launch of direct flights between Singapore and Noumea.
Airline chief Didier Tappero, speaking at a launch event at Singapore's Changi Airport on 2 July, says the airline will evaluate network requirements and did not rule out future network growth in the region.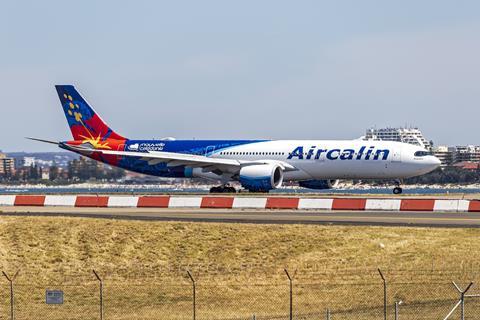 The carrier on 1 July began flying to Singapore from its Noumea hub, with twice-weekly flights operated by its Airbus A330neos, which it took delivery of in 2019.
It will add an additional weekly flight from September. Tappero hopes to ramp up frequencies to four times weekly "as soon as possible".
Singapore is the airline's second point in its Asian network, after Tokyo. The airline also previously served Osaka and Seoul.
Tappero adds that the Singapore route allows it to feed traffic with its partner Air France for flights to France and Europe.
As the French territory's home carrier, Tappero says Aircalin's "goal is really to promote New Caledonia". On future growth, Tappero says: "It will have to be a natural way of expansion for Aircalin."
"We have done shuttle flights to Paris before, and it was quite a success, and we have the appropriate aircraft to do so now," says Tappero, who was referring to its new A330neo fleet.
He also hints at a "commercial agreement" signing with Singapore Airlines, but did not elaborate further. According to its website, the airline has existing partnerships with Air France, Air Tahiti Nui, as well as Japan Airlines. It also codeshares Qantas, Air New Zealand and Air Vanuatu.
Separately, Aircalin has inked a crew training agreement with Airbus for its A320 and A330 pilots.
Announced during the launch event, the multi-year contract will allow for up to 35 Aircalin crew to train at the Airbus Asia Training Centre in Singapore.
It will also allow the crew to undergo Airbus cross crew qualification training for both A320 and A330 type ratings.
The airline has two A330neos and one A320neo in its fleet, and it has a second A320neo on order.