Alaska Air Group, the parent company of Alaska Airlines, says strong post-pandemic demand for air travel supported record revenues during the second quarter of 2022.
The Seattle-based carrier said on 21 July that it posted a profit of $139 million, down from $397 million in the same quarter last year. That figure, however, included US federal payroll support. Without the aid, the company reported a loss of $38 million in the second quarter of 2021.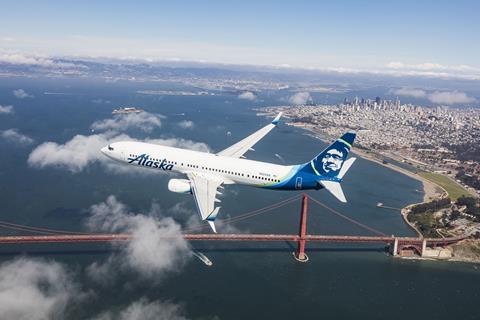 Revenue during the quarter was $2.66 billion, up 74% from the $1.53 billion it reported during the same three-month period in 2021. It's the highest revenue-generating quarter in company history, Alaska says. Revenue in June alone topped $1 billion, the highest single month ever for Alaska, the airline adds.
"It's clear that travel is one of the things people have missed the most these past two years," the company's chief executive Ben Minicucci says. "We have a strong platform for growth in 2023 and a lot to be optimistic about."'
For the full year, Alaska expects its revenues to come in between 16% and 19% over pre-pandemic 2019 levels, underscoring the overall industry's bullish expectations.
As passengers come back, operating expenses also rose, to $2.47 billion, from $978 million during the quarter last year, an increase of 153%.
Load factor at the airline rose to a record 88% during the second quarter, the company says.
The airline took delivery of nine Boeing 737 Max 9 aircraft during the period between April and June, bringing the total number of that type in the fleet to 28.
Earlier this week, Alaska Air Group ordered an additional eight Embraer 175 aircraft, along with 13 options. The aircraft will fly exclusively for Alaska Airlines under a capacity purchase agreement with regional subsidiary Horizon Air. It already operates 30 E175s.