Alaska Air Group turned a narrow profit in the third quarter, reporting income of $40 million for the three months ending 30 September.
The parent company of Alaska Airlines and Horizon Air reports revenue of $2.8 billion – more than in any quarter in company history –"despite the impact of exceptionally high fuel prices and multiple new labour contracts", chief executive Ben Minicucci said during a 20 October conference call.
Passenger load factors exceeded 2019 levels every month of the quarter, the company says. Unit revenue (measured in revenue per seat per mile) jumped 27% over the same quarter in 2019, "which we believe was the best in the industry and underscores that our commercial initiatives are delivering", Minicucci says.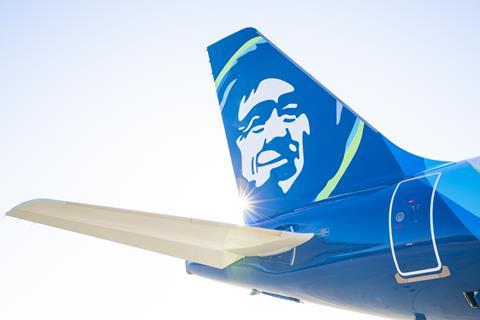 "We ran an industry-leading operation with completion rates over 99% every month," he says. "We set a new revenue record, and our double-digit pretax margin will likely lead the industry. Alaska and Horizon also ratified three major labour deals. This is a strong foundation that we look forward to building on in 2023."
Amid the industrywide pilot shortage, Alaska recently "became the first major airline to reach a deal with its mainline pilot group", Minicucci adds.
On 17 October, 3,300 Alaska Airlines pilots represented by the Air Line Pilots Association, International (ALPA) voted in favour of a new three-year contract that includes wage increases of up 23%, depending on length of service.
Additionally, more than 700 Horizon pilots represented by the International Brotherhood of Teamsters secured higher pay with a new contract effective 16 October. In August, nearly 5,700 Alaska employees represented by the International Association of Machinists and Aerospace Workers agreed to a two-year contract extension.
The new labour agreements added $35 million in costs "that were not in our original guidance", chief financial officer Shane Tackett says.
Minicucci sees "early indications" the contracts will help Alaska attract and retain pilots. The company estimates needing to hire 500 new pilots annually through 2025.
On balance, Alaska held $3.2 billion in unrestricted cash and marketable securities as of 30 September, "providing us two times the cash we need to run our business and ample funds to pay for our Boeing aircraft deliveries over the next year", Tackett says.
During the third quarter, Alaska received five Boeing 737 Max 9s, expanding its fleet of the aircraft to 33. It also retired six Airbus A320s and nine De Havilland Canada Dash 8-400s.
By the end of January 2023, Alaska Group plans to retire all 23 remaining A320s and its last 22 Dash 8-400s, it says.
Looking ahead to the fourth quarter, Alaska anticipates revenue will be 12-15% higher than in the comparable 2019 period, despite the expectation that passenger capacity will be significantly lower.