Alaska Air Group generated record full-year operating revenue of $9.65 billion in 2022 and a profit of $58 million for the year.
While the profit was down on the $478 million the group made in 2021, the latter figure included $914 million in state payroll support – without which Alaska would have been in the red.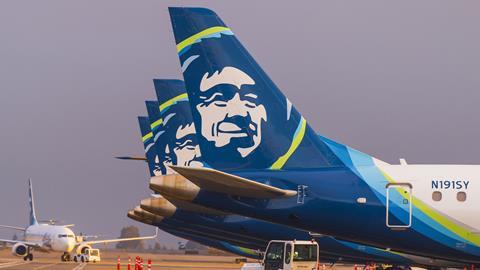 The company delivered a 2022 profit despite logging nearly $500 million in costs relating to its accelerated fleet transition – the airline has been removing Airbus narrowbodies and De Havilland Dash 8s from service – and $84 million in one-off labour expenses.
The full-year performance was supported by a $22 million profit for the fourth quarter, on revenue of $2.5 billion, which was up 30% year on year and 11% higher than in pre-pandemic 2019.
Alaska's full-year 2022 revenue was 60% higher than in 2021. It was 10% more than in 2019 and achieved on 9% less capacity than in 2019, reflecting strong yields.
Alaska Airlines chief executive Ben Minicucci says: "2022 was a year of significant recovery and accomplishment for Alaska Airlines. Despite many challenges during the year, we ran one of the best operations, signed five new labour deals and executed the majority of our… fleet transition.
"Our 7.6% full-year adjusted pre-tax margin led the industry, proving that our business model is resilient," he adds, speaking on a full-year results call on 26 January.
For the year ahead, Minicucci says Alaska targets achieving an adjusted pre-tax margin of 9-12% and has set an earnings guide of between $5.50 and $7.50 per share. "Delivering on these targets will be challenging and will require us to leverage our competitive strengths," he says.
He cites labour and aircraft availability as challenging the 2023 capacity expansion plan.
Minicucci notes Alaska plans to hire 3,500 staff this year. He says the airline is in "close communication" with Boeing regarding aircraft deliveries, and adds he has "a high degree of confidence" in Alaska's fleet planning assumptions. Boeing has been struggling to accelerate its 737 delivery pace amid production troubles.
"Having factored in appropriate buffers in both these areas, we are confident in our 2023 plans to grow 8-10%," he says.
Alaska expects its first-quarter 2023 will be 29-32% above 2022 levels – a quarter in which demand was stifled by the Omicron variant of Covid-19 – on a capacity increase of 11-14%
Alaska Airlines chief commercial officer Andrew Harrison says: "Importantly, 85% of growth comes from increased [aircraft] gauge and stage. This is the most-efficient capacity growth of any year I can recall."
He adds that two-thirds of Alaska's grown will be in the Pacific Northwest, with another third in California.