Allegiant Travel Company has made further changes to its C-suite days after accepting the resignation of co-president and chief operating officer Scott Sheldon.
Sheldon had been co-president of the parent company of Allegiant Air alongside Greg Anderson since both were hired to the roles in July 2022. Anderson alone continued as president and assumed "oversight of the company's operational teams" on 27 January.
Keny Wilper, Allegiant's senior vice-president of its operational control centre and stations and a company employee since 2002, has stepped into the role of chief operating officer on an interim basis.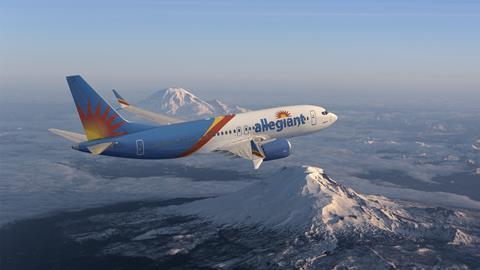 In another leadership shake-up on 30 January, Allegiant made several moves that place "strategic emphasis to the areas of planning, finance, revenue and team-member engagement", the Las Vegas-based ultra-low-cost carrier said.
"C-suite responsibilities for these long-term executives showcase the leadership depth we have within the company, and I am confident these changes will serve our stockholders, customers and team members well," Anderson says. "In particular, I continue to be proud of the strength of Allegiant's bench and our ability to recruit and develop management talent."
Robert Neal assumes the responsibilities of chief financial officer from Anderson. He previously worked as the company's senior vice-president of corporate finance and "is a worldwide expert in the used aircraft market", Allegiant says.
Neal led the negotiations on Allegiant's 2021 order of 100 new Boeing 737 Max aircraft and will continue to oversee fleet procurement.
Tracy Tulle will work as senior vice-president, chief experience officer, providing "C-suite focus to continually provide and improve a positive experience for our customers and team members", the airline says. Tulle's previous role was senior vice-president of flight crew operations, which included oversight of in-flight services.
Additionally, Drew Wells has been named chief revenue officer and will continue his role as senior vice-president of revenue and network planning.
"Wells, who joined Allegiant in 2011, has been a key architect in network planning, leading the company's revenue and network teams to support profitable growth since he assumed a vice-president role in 2017," the airline says.
Neal, Tulle and Wells report to Anderson. Allegiant Travel Company is set to hold its fourth-quarter 2022 earnings call with investors on 1 February.
The ultra-low-cost carrier currently operates an all-Airbus fleet of Airbus A320s and A319s but has orders for 50 Boeing 737 Max jets and options for a further 50 airframes. Due to repeated delays in the Max programme, Allegiant expects to receive only three 737s in 2023.