Allegiant Travel Company, the parent of low-cost carrier Allegiant Air posted higher revenue and a small profit during the second three months of 2022 as expenses climbed.
The Las Vegas-based company said on 3 August that second-quarter revenue rose to $630 million from $472 million in the same three months of 2021. That's also higher than pre-pandemic 2019, when second-quarter revenue came in at $492 million.
The company posted a $4.4 million profit. Last year's second-quarter earnings were $95 million, a sum that was supported by $62 million in federal payroll assistance.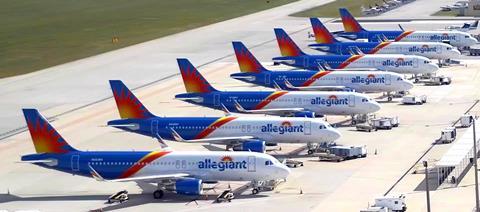 But during the "highest-revenue-generating quarter in company history", costs, especially that of fuel and labour, also climbed.
The company's expenses during the three-month period rose 81%, to $604 million, from $334 million last year. The cost of fuel alone more than doubled, Allegiant says.
"The second quarter was not our best but we are reacting fast to this ever-changing environment," says new chief executive John Redmond.
"As we head into the third quarter, we continue to focus on operational integrity, ensuring safe and reliable travel for our customers," he adds. "Our operations and planning teams have made significant progress combating the challenges present within the current operating environment."
The company's capacity was 12.2% over the same quarter in pre-coronavirus disruption 2019. Load factor was at 87.3%, up from 70.8% during the same three months last year, and 83.6% during the same quarter in 2019.
It was the first quarterly results call in more than 20 years without the company's long-time chief executive Maurice Gallagher, who stepped down in June. Gallagher took over Allegiant in 2001 after the company went through a bankruptcy reorganization. He remains executive chairman of the airline's board.
The company ended the quarter with 115 aircraft in its all-Airbus fleet, and expects to add nine more by the end of the year. The growth will come from the addition of high-density 186-seat A320s.
Last week, the company announced that it would name two co-presidents to serve in the role that Redmond vacated prior to becoming CEO. Scott Sheldon, the company's chief operating officer, and Gregory Anderson, chief financial officer, will assume new roles as presidents of Allegiant Travel Company. They will both report to Redmond.