JetBlue Airways pilots approved on 30 January a two-year contract extension that includes a 21.5% pay increase over 18 months.
With 95% of eligible pilots participating, 75% of voted in favour of the tentative agreement, which was reached in December 2022, according to the Air Line Pilots Association, International (ALPA).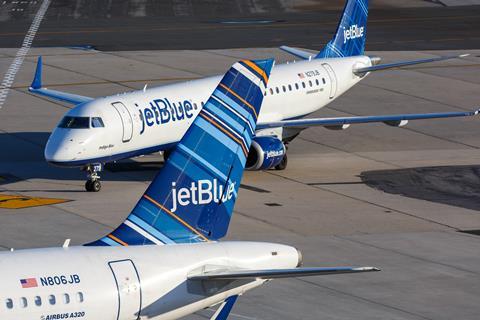 "This contract extension provides unprecedented pay increases for JetBlue pilots across the board and recognises the contributions of JetBlue pilots to the success of this airline, including the planned merger with Spirit Airlines," says Chris Kenney, chair of JetBlue's ALPA unit. "As JetBlue pursues this merger, this agreement protects the career expectations of JetBlue pilots while the market for pilots rises."
New York-based JetBlue is tentatively set to acquire rival discount carrier Spirit Airlines in a deal that is pending federal regulatory approval.
Spirit pilots, also represented by ALPA, voted on 10 January to approve a new two-year union contract that could be renegotiated if the airline's acquisition by JetBlue collapses. Spirit pilots are in line for a 27% "economic gain" from the agreement, which is retroactive to 1 January 2023.
Meanwhile, JetBlue and its pilots have been engaged in "expedited, short-term contract negotiations" since September 2022. On 14 December, the parties reached a tentative agreement "that ensures JetBlue pilot pay remains in line with any compensation gains achieved by their peers at other airlines", ALPA says.
"The agreement ratified today puts JetBlue pilots in a strong position for future negotiations for either a joint collective bargaining agreement with the pilots at Spirit Airlines or, should the merger fail to conclude, a comprehensive standalone collective bargaining agreement," the union adds.
ALPA represents more than 67,000 pilots that work for 40 airlines in Canada and the USA.