American Airlines has announced changes to its senior leadership team when current president Robert Isom takes over as chief executive on 31 March 2022.
The Fort Worth-based carrier says on 14 December that the group will consist of nine executives who bring "diverse skills and unmatched experience" to lead the airline out of the global Covid-19 crisis.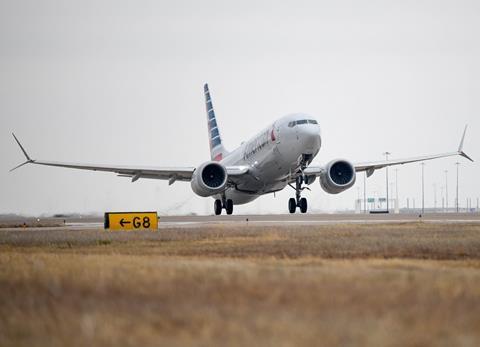 "These executives are all extremely capable and experienced leaders, and together, they form an unstoppable team," Isom says. "Each of these individuals has played a key part in American's recovery through the pandemic and I'm excited to work with them as we lead American forward into 2022 and beyond."
Chief financial officer Derek Kerr will take on the additional role of vice-chair, overseeing corporate financial functions, risk and corporate development.
Steve Johnson, executive vice-president of corporate affairs, will take on a "new strategic advisory role" for the leadership team and the board, focused on strategy development, corporate governance, "economics and competition issues" and social, environmental and governance issues.
Elise Eberwein, currently executive vice-president of people and global engagement, will retire, the company says. Her role will be split between Cole Brown, senior vice-resident and chief people officer, and Ron DeFeo, senior vice-president and chief communications officer.
Maya Leibman will remain in her role as executive vice-president and chief information officer.
Other executives who will report directly to Isom include: Priya Aiyar, chief legal officer, Nate Gatten, chief government affairs officer, Vasu Raja, chief commercial officer, and David Seymour, chief operating officer.