American Airlines and JetBlue Airways are expanding their operating partnership with 11 new routes from Boston and New York as a pending decision in a federal antitrust trial challenging their so-called Northeast Alliance (NEA) looms.
The expansion includes six new flights that will be operated by American from LaGuardia Airport in New York to Birmingham (Alabama), Buffalo (New York), Grand Rapids (Michigan), Knoxville (Tennessee), and Columbia and Greenville (South Carolina). The new routes are set to start on 5 May.
"The new service — which includes many routes currently only flown by one other carrier — is made possible through JetBlue and American's innovative and effective Northeast Alliance," Fort Worth-based American said on 9 December.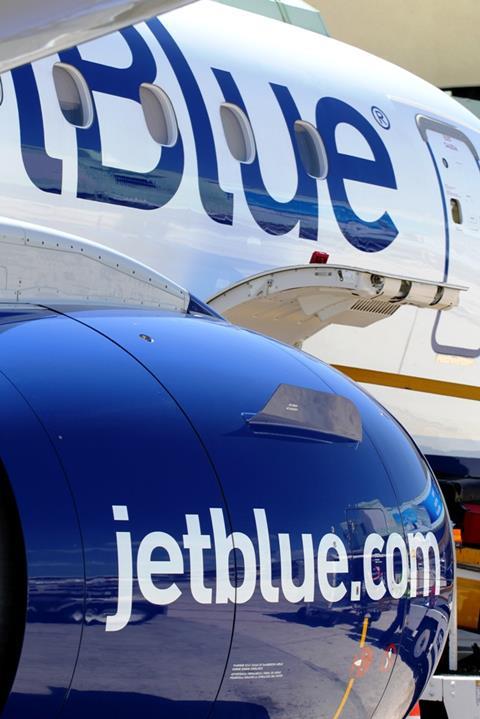 In early 2023, JetBlue will roll out nonstop flights between LaGuardia and Atlanta, Hyannis (Massachusetts), and the Bahamas and Bermuda, pending government approval. Then, later in the year, the New York-based discount carrier will roll out nonstop flights between Newark Liberty International airport in New Jersey to Aruba and Montego Bay, Jamaica. JetBlue also plans to expand its network in Canada with flights from Boston to Vancouver.
"As we continue to enhance the Northeast Alliance and link more destinations with new nonstop choices, customers finally have a compelling alternative to the carriers that have dominated the market for too long," says Dave Fintzen, vice-president of the NEA for JetBlue.
Indeed, American says the new routes are "further increasing competition for travellers in the Northeast", though lawyers with the US Department of Justice argued the NEA stifles competition in the region during the government's antitrust trial against American and JetBlue, which concluded on 18 November.
The airlines are awaiting a decision from US District Judge Leo Sorokin, who said following closing arguments that his decision was likely weeks away. The federal trial in the US District Court for the District of Massachusetts began on 27 September and featured testimony from rival carriers Frontier Airlines and Spirit Airlines, who said that the NEA strangles competition in Boston and New York. Notably, JetBlue has a pending deal to acquire low-cost competitor Spirit.
"The alliance is great for American and JetBlue," John Kirby, Spirit's vice-president of network planning, testified on 30 September. "It does allow them to operate similar to a merger without being merged. But overall, I think competition is harmed by this combination."
DOJ attorneys argued that the NEA will cost passengers hundreds of million of dollars a year in higher fares, as the two airlines no longer undercut each other's pricing.
The NEA is a code-share deal under which the airlines market and sell the other's flights as their own, coordinate schedules and share some revenue. It was formed in 2020 as a means of overcoming "insurmountable obstacles historically faced by each airline in challenging other airlines' dominance in the region"– namely, Delta Air Lines.
American says that, so far, the NEA has created 50 new routes out of Boston and New York and increased frequencies on more than 130 existing routes.