American Airlines has become the first major US carrier to eliminate change fees on many long-haul international fares, matching its earlier policy change on domestic trips as customers continue to stay away from air travel due to restrictions and public health warnings.
"We are committed to making travel easier for our customers who fly on American," the Fort Worth-based airline's chief revenue officer Vasu Raja says on 19 November. "By eliminating change fees, we're giving customers more flexibility no matter when or where they plan to travel."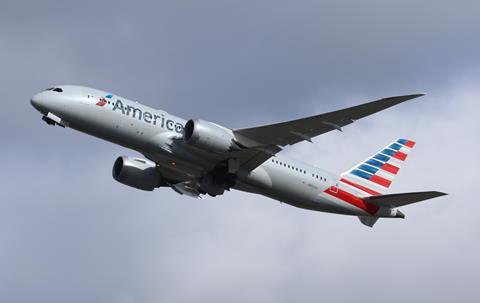 American says the fees, which can run up to $200 per ticket, will be axed from itineraries originating in North or Latin America, in all classes. The only fares that will be subject to the fees are the cheapest Basic Economy fares, the airline says.
The policy takes immediate effect.
In August, major US carriers eliminated change fees on most domestic and short-haul international flights. The idea behind the change was to allow customers more flexibility with travel plans during what is forecasted to be a choppy recovery.
Airlines hoped this would motivate customers to return more quickly to air travel, despite the ongoing global pandemic.
But as case counts begin to rise again across the US, public health officials are once again encouraging people to stay home. This does not bode well for the all-important US Thanksgiving holiday next week, putting a dent into the carriers' recovery plans.
Thanksgiving, which falls on 26 November this year, is traditionally the most-travelled long weekend of the year in the United States. But in 2020, airlines and industry analysts are expecting significantly lower passenger numbers due to uncontrolled spread of the coronavirus in many parts of the country.
Airlines had, until this year, resisted eliminating or reducing the fees, with the exception being Southwest Airlines, which did not charge fees to begin with. But the coronavirus downturn has shifted the industry, forcing carriers to broadly overhaul their businesses in response to a drastic collapse in demand.