American Airlines expects to report $12.2 billion in revenue for the first quarter of 2023, when it logged 9.2% more capacity than during the same period last year.
The Fort Worth-based carrier also said in a 12 April investor update that its operating profit for the three-month period ending on 31 March will be about $414 million, with a profit (excluding special items) somewhere between $7 million and $33 million.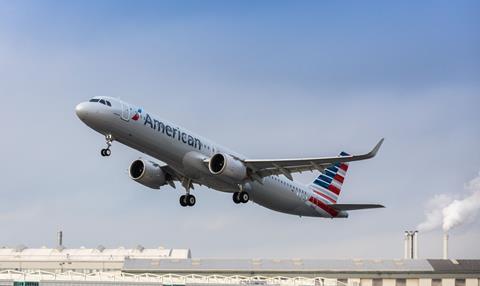 During the first quarter, the airline logged 65 billion available seat miles (ASMs), up 9.2% year-on-year – slightly more than the mid-point of its prior guidance of an 8-10% jump. Total revenue per available seat mile was up 25.5%, also near the mid-point of guidance.
The company is expected to report its first-quarter figures in about two weeks.
Earlier this month, American paused some flights to China and said it will make more adjustments to its China schedule this year.
Those cuts came after carriers have in recent months been adding flights to China following the Covid-19 downturn. But airlines have also been struggling recently with crew and aircraft shortages, and demand remains below pre-pandemic levels.
American had planned in October to begin flying two new China routes: from Seattle to Shanghai Pudong International, and from Dallas Fort Worth International to Beijing Daxing International.