American Airlines has made an equity investment in start-up Universal Hydrogen to help support the airline's ambitious goal of achieving net-zero greenhouse gas emissions by 2050.
The Fort Worth-based carrier said on 10 October it is the first US airline to make two direct investments in hydrogen-electric propulsion technology and fuel distribution logistics. In August, American said it had invested in ZeroAvia, giving it the opportunity to order up to 100 engines from ZeroAvia's hydrogen-electric powertrain development program.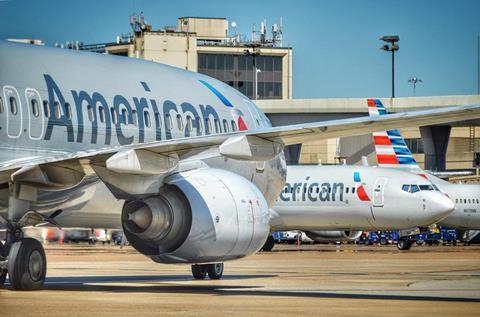 "This technology has the potential to be a game-changer on the industry's path to zero-emission flight," says the airline's chief financial officer Derek Kerr. "Our investment in Universal Hydrogen represents a vote of confidence for green hydrogen as a key element of a sustainable future for our industry."
Other strategic investors in Universal include Airbus Ventures, GE Aviation and Toyota Ventures, as well as several major hydrogen producers and aircraft lessors.
"Together with our investors, we are putting together the end-to-end value chain to make hydrogen aviation a near-term commercial reality," says Paul Eremenko, co-founder and chief executive of Universal. "This move by American is a strong signal that customers want a true zero-emissions solution for passenger aviation and are willing to back tangible, pragmatic steps to get there quickly."
Universal's fuel distribution network uses modular capsules filled with hydrogen that are handled like cargo. It expects to begin deliveries for regional aircraft in 2025. Universal said in July it plans this year to complete first flight of a De Havilland Aircraft of Canada Dash 8 powered by its hydrogen fuel-cell powertrain.
The California-based company is also developing "powertrain conversion kits" that would allow two types of passenger turboprop aircraft to burn hydrogen. Those types are the Dash 8-300 and ATR's ATR 72. Universal has acquired one of each and plans to begin flight testing soon.