American Airlines is counting on cost-saving fleet retirements and a $4.75 billion US CARES Act loan to boost its liquidity sufficiently to help see it through the next two quarters while waiting for travel demand to revive somewhat during the summer months.
The $4.75 billion loan – which American applied for on 16 April – is in addition to the $5.8 billion the Fort Worth-based airline is receiving under the Coronavirus Aid, Relief and Economic Security Act's payroll support programme. Of that $5.8 billion, $4.1 billion is a direct grant and $1.7 billion comes in the form of a 10-year low-interest loan.
"The CARES Act provides the industry the breathing room we need to manage through the worst parts of the [coronavirus] crisis and to pay our team members that we otherwise would have needed to furlough," chief executive Doug Parker said during American's 30 April first-quarter earnings call. "It does not fix the core problem that all of us have, which is revenue generation. We all expect that recovery will be slow and demand will be suppressed for quite some time."
Accelerated fleet retirements and their associated maintenance savings will give American some additional breathing room. The airline has retired four aircraft types: Boeing 757s (34 aircraft), 767s (17 aircraft), Airbus A330-300s (nine aircraft) and Embraer 190s (20 aircraft). The carrier has also retired some older regional aircraft.
"These decisions alone will reduce our 2021 fleet count by approximately 100 aircraft versus our prior plan, and we'll continue to assess further reductions," Parker says.
Finance chief Derek Kerr says next in line for retirement might be the carrier's 15 A330-200s, 42 older 737 jets and some of its older A320s, in that order. American might also return 26 and 21 aircraft on leases finishing in 2021 and 2022, respectively, as they expire.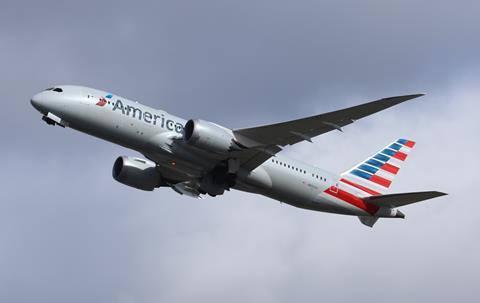 American reduced system capacity 80% year-on-year in both April and May, and will suspend 70% of domestic and 80% of international capacity in June versus June 2019.
The airline has no plans to close hubs. Senior vice-president of network strategy Vasu Raja said during the call that fleet simplification is a better route to cost savings. "If we just take out fleets you take out direct expenses," Raja says. "That makes the airline more lean and nimble to respond to a recovery when and if it comes."
As American's fleet and capacity have scaled down, so has its workforce. Since the pandemic began, nearly 39,000 employees have volunteered for either early retirement, a reduced work schedule or a partially paid leave. This trend will continue, although it is uncertain if American will administer involuntary furloughs once the CARES Act prohibition on layoffs and pay cuts ends after 30 September.
"Given what we have announced with the retirement of all these aircraft…we will go into the fall with more team members than we have work for," Parker says. "The fact that we had 39,000 of our team members volunteer for leaves and early retirement is an indication that we hopefully can be able manage through that without having to do furloughs."
The reduction in scale of the airline and other cost-cutting measures have helped American reduce its estimated 2020 operating and capital expenditures by more than $12 billion, Kerr says. In the meantime, the airline will continue to raise capital, in addition to the CARES Act loan, as it attempts to reduce its expected daily cash burn in the second quarter from an average of $70 million per day to approximately $50 million a day for the month of June.
"In light of the current environment, our sole focus is to ensure we have sufficient liquidity," Kerr says.
American ended the first quarter with $6.8 billion in liquidity (aside from the $10.6 billion in total expected CARES Act funds) and more than $10 billion of unencumbered assets.
"Outside of our recently arranged $1 billion 364-day delayed-draw term loan, we do not have a meaningful non-aircraft debt amortisation payments for more than three years," Parker says. "We feel confident with that level of liquidity, but in this uncertain environment we'll continue looking for additional sources."
Parker expects American to end the second quarter with approximately $11 billion of liquidity, based on the assumption that the treasury department approves the CARES Act loan and that the airline secures additional financing.
TRANSITIONAL FIRST QUARTER AND UNCERTAIN FUTURE
As it did for all airlines, the pandemic wiped out travel demand and drove flight cancellations in March. American reported a net loss of $2.2 billion in the first quarter compared to a net profit of $185 million in the first quarter of 2019.
Total revenue per available seat mile (TRASM) decreased 13.6% in the first quarter year-over-year, and non-fuel unit costs (CASM ex-fuel) increased 9.2%.
As March took its toll on the aviation industry, American worked with other US carriers to lobby the federal government for emergency aid, resulting in the CARES Act provisions for the aviation sector. Then came its initial plans for a smaller future.
Shrinking an airline while wondering when passengers might begin to feel safe to fly is not the same thing as planning for the future.
As much as American's executive team would like to imagine the kind of airline it will need to be three or four years from now, the decisions they need to make about how large an airline it will be this fall are more pressing.
"At this point we're working on getting through the current liquidity crisis rather than building 2021 plans," Parker says.