American Airlines says it has reached a tentative collective bargaining agreement with unions representing 31,000 employees, after an acrimonious year-long standoff led to the delay or cancellation of more than a thousand flights.
The Fort-Worth-based carrier did not release details of the agreement and says it is still subject to ratification by the employees who are represented by the Transport Workers Union (TWU) and the International Association of Machinists and Aerospace Workers (IAM).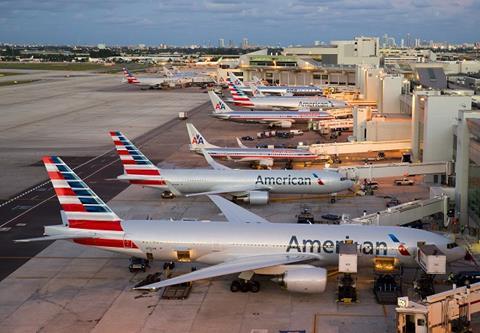 "Our Maintenance & Related and Fleet Service team members are the very best in the business and work incredibly hard to care for our customers," chief executive Doug Parker says in a statement on 30 January.
"They deserve contracts that include meaningful improvements in pay, quality of life and job protections. The tentative agreements deliver on all of these — and more. We appreciate the Association and company negotiators who worked so hard to get us to this day, as well as the National Mediation Board for their guidance."
American says the association will communicate details of the agreements to its members in the coming weeks.
Last May the airline sought an injunction against the workers, alleging the unions promoted an illegal work shutdown, adding to numerous operational woes it suffered during 2019 including the grounding of its 24 Boeing 737 Max aircraft.