American Airlines is partnering with regional carrier Air Wisconsin Airlines to expand its network out of its Midwest hub in Chicago.
"We're taking another important step to strengthen our network by welcoming Air Wisconsin Airlines to the American Eagle portfolio of regional airline partners," American chief financial officer Derek Kerr writes in an internal memo on 22 August.
"Air Wisconsin's fleet of up to 60 Bombardier CRJ200 aircraft will start to enter service no later than March 2023, with most of the flying focused on connecting customers to our Chicago O'Hare hub," he adds.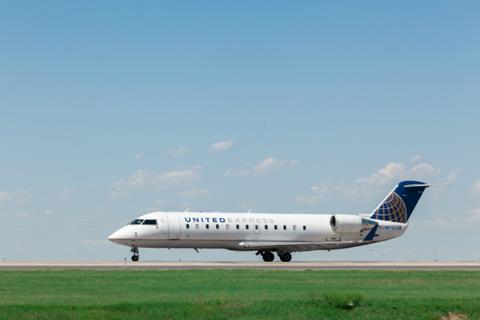 According to a 19 August Securities and Exchange Commission (SEC) filing, American will pay Air Wisconsin "fixed daily revenue for each aircraft, a fixed payment for each departure and a fixed payment for each block hour flown".
"Air Wisconsin will also be eligible to receive incentive compensation, and will be required to pay rebates, upon the achievement of, or failure to achieve, certain pre-established performance criteria," the company says in the filing.
Future expansion of the agreement could expand beyond Chicago, the filing adds.
The aircraft will begin service for American in March 2023, and more will join the fleet as they become available, through October 2023. Subject to the satisfaction of certain conditions, Air Wisconsin can accelerate the implementation schedule, American says.
The agreement is effective for five years.
Air Wisconsin currently operates in the United Airlines network, as United Express. Its agreement with United is due to expire in the coming months, American says in the SEC filing.
"We will continue to operate for United until we transition our fleet to American in 2023," Air Wisconsin adds. "We are excited for this opportunity to join the American team and support their unrivalled regional network."
According to Cirium fleets data, Air Wisconsin operates 64 of the 50-seat CJR200s, with 56 flying and eight in storage. The aircraft's median age is just under 20 years.
The Air Wisconsin-American agreement says the parties may discuss adding CRJ700 regional jets to Air Wisconsin's fleet under American Eagle, though the addition of that type is not mandatory.