American Airlines remained profitable in the third quarter of 2021 thanks to US government pandemic-related aid, as executives predict business travel will recover in 2022.
The Fort Worth, Texas-based airline earned a $169 million profit in the third quarter – when including $992 million in US government pandemic-related payroll assistance.
Excluding those funds and other "special items", American would have lost $641 million in the period.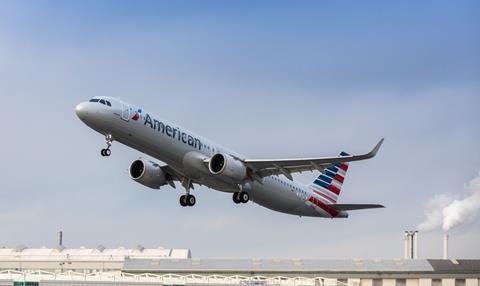 "This is our smallest quarterly loss since the pandemic began in early 2020," American chief executive Doug Parker says.
By comparison, American lost $2.4 billion in the third quarter of 2020, and earned a $425 million profit in the same period of pre-pandemic 2019.
American reports $9 billion in third-quarter revenue, nearly triple the comparable 2020 figure. The company logged $8.4 billion in third-quarter operating expenses, up 39% year-on-year.
Executives expect American's domestic leisure travel business will surpass 2019 levels in the fourth quarter. But, the airline's domestic business travel segment remains at about half the 2019 benchmark, says Parker.
He notes that domestic business travel had spiked to 64% of pre-Covid figures in July – a jump that helped American turn a July profit and that Parker thinks bodes well for American's longer-term recovery.
"We actually think its encouraging," Parker says. "The spike in business travel revenue in the month of July shows that business travel does want to return."
American president Robert Isom says many of the airline's "largest corporate customers will be returning more fully to the office and [travelling] as we move out of 2021."
"Because of that, we continue to expect a full rebound of business revenue to 2019 levels on a monthly basis by the end of 2022," he says.
American anticipates its fourth-quarter 2021 revenue will be about 20% less than its fourth-quarter 2019 revenue, and that its capacity (in available seat miles) will be down 11-13% from the 2019 figure.