Star Alliance carriers All Nippon Airways and Singapore Airlines have signed a joint venture agreement to deepen their existing partnership.
The agreement, subject to regulatory approval, would allow both carriers to widen their partnership beyond Singapore and Japan, to "key markets" such as Australia, India, Indonesia and Malaysia.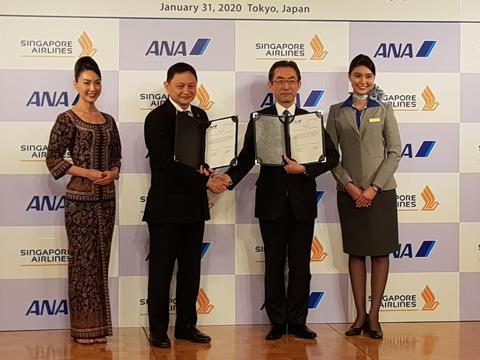 It will go beyond the existing partnership both carriers have, which focuses on codesharing, among others.
The agreement will cover "a broad range of joint fare products, tie-ups between frequent flyer programmes, and aligned corporate programmes", SIA and ANA state in a joint media release.
Earlier in the month, media reports indicated that the two carriers were in talks about a joint venture agreement, though both carriers declined to comment.
ANA president and chief executive Yuji Hirako says: "[ANA has] worked closely with Singapore Airlines for many years and we are excited to take this partnership one step further. The joint venture will help ANA and Singapore Airlines build upon their reputation for superior service, further differentiating both airlines from the competition."
ANA has existing joint venture partnerships with fellow Star Alliance carriers, United Airlines and Lufthansa, while SIA has the same with Air New Zealand, Lufthansa, Scandinavian Airlines. SIA has also applied to enter into a similar partnership with Malaysia Airlines.
Cirium schedules data shows that ANA operates four flights a day between Tokyo and Singapore. Meanwhile, SIA flies four times a day to Tokyo Haneda and twice daily to Tokyo Narita. It also has thrice-daily flights to Osaka Kansai, as well as daily flights to Nagoya and Fukuoka.