ANA is consolidating its freighter operations at Tokyo Narita to maximise profitability, alongside plans to channel capacity from passenger aircraft operating cargo-only flights to its logistics hub at Naha airport in Okinawa.
The group will continue to deploy all 11 freighters in its fleet, which will service destinations in Asia, including China, as well as in North America and Europe, via Tokyo Narita, it said today in a statement about its cargo schedule for the fiscal year ending 31 March 2022.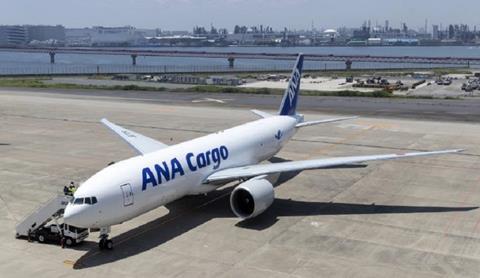 Pure-cargo flights using passenger aircraft will be deployed according to ANA's assessment of demand, and it plans to supplement its cargo operations by adding charter flights and non-scheduled commercial flights.
The group adds: "ANA will introduce new destinations and routes, depending on the market demand and assessment of its profitability."
Cirium fleets data shows that Air Japan, ANA's charter arm, operates nine Boeing 767-300 freighters, between 14 and 29 years of age, and two 777-200 freighters, each around two years old.
ANA's summer schedule, commencing 28 March, indicates that it will operate 777Fs to Chicago and Frankfurt, as well as a third of the operations to Shanghai.
767Fs are deployed on all other routes, to Bangkok, Singapore, Hong Kong, Taipei, Seoul, Qingdao, Xiamen, Guangzhou, as well as Shanghai.
Key changes for these destinations are the doubling of capacity to Frankfurt, from one to two round trips weekly; reducing frequency to Shanghai from 20 round trips a week to 12; and a reduction in Qingdao capacity from six round trips weekly to four.
Earlier, ANA outlined on 29 January plans for low-cost subsidiary Peach and other airlines to tap ANA Cargo's international network, by operating cargo-only flights on passenger aircraft to the Okinawa International Aerial Logistic Hub, which is in turn connected to ANA Cargo's Tokyo base.
In its statement, the group illustrated that Okinawa has direct flight connections to Seoul, Shanghai, Taipei, Hong Kong, Bangkok, and Singapore, while ANA Cargo has access to the European and North American markets from Tokyo.