ANA Holdings' subsidiaries mainline carrier All Nippon Airways and budget airline Peach will begin a codeshare agreement in late August.
ANA says the agreement will allow travellers to reserve and purchase flights for Peach under ANA and accumulate ANA miles. In addition, ANA says mileage may be exchanged for Peach's loyalty points.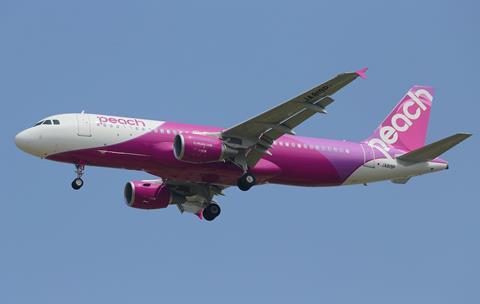 Juichi Hirasawa, senior vice-president and Junko Yazawa, SVP overseeing customer experience management and planning at ANA states: "By combining our resources, both companies will be better equipped to provide travellers with more choices and the flexibility they need when traveling. Since this partnership allows for passengers to accumulate ANA miles when travelling with Peach Aviation, it will also help open up new opportunities."
Flights currently included in the codeshare agreement include Tokyo Narita to New Chitose airport in Sapporo, Tokyo Narita to Fukuoka, Tokyo Narita to Naha airport in Okinawa, Nagoya's Chubu Centrair International airport to Sapporo and Nagoya to Naha airport.
ANA says the agreement helps the airline reach new markets and improve its business model amid a global decrease in demand over the past year.
Airbus A320 aircraft operated by Peach will provide service on the routes included in the codeshare agreement.