ANA Holdings expects a steeper full-year operating loss, as passenger revenues fell below target and fuel costs continue to increase.
It is the second operator in Japan - after Japan Airlines - to flag a steeper loss, as Japan's international borders continue to remain largely shut.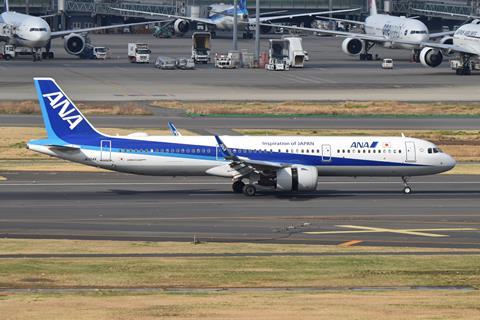 The parent company of ANA forecasts a loss of Y175 billion ($1.36 billion) for the year to 31 March, compared to an earlier estimate of a Y125 billion loss.
It expects a 3.8% decline in revenues to Y1 trillion, which it attributes to international and domestic revenues being "lower than our estimates". This was despite strong cargo revenue performance, says ANA Holdings.
It adds: "This is, with the spread of the Omicron variant of [the] coronavirus, due to the semi-emergency coronavirus prevention measures and the thorough border restrictions in Japan in the fourth quarter."
"In terms of operating cost, due to the surging fuel price, we could not cover the decline of revenue in spite of our efforts to reduce…fixed cost," states the company.
ANA Holdings' forecast came days after compatriot JAL flagged a steeper loss for the 2021 financial year, with a full-year net loss of Y177 billion, compared to earlier estimates of Y146 billion.
JAL also lowered revenue forecast by 11% to Y682 billion, as it blames the spread of the Omicron variant of the coronavirus for a shortfall in demand, particularly in its domestic network.