All Nippon Airways parent ANA Holdings will be raising close to Y150 billion ($1.3 billion) in funds, with a portion of proceeds used to fund its new low-cost, medium-haul airline unit.
The company says in a 25 November stock exchange filing that it will be issuing 10-year, zero-coupon convertible bonds to raise the amount.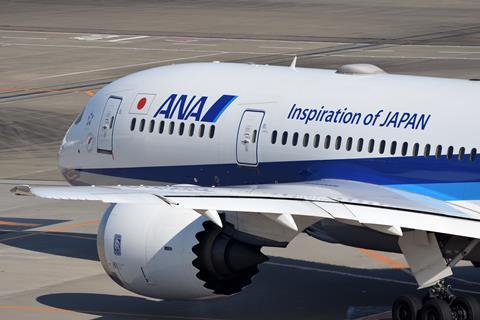 It will use around Y50 billion by end-March 2024 as "investment in growth", which includes the establishing of the third carrier.
ANA disclosed plans for the third airline in October 2020. It will serve alongside mainline carrier ANA and low-cost unit Peach. The new airline, based on the existing Air Japan, will use 787s with 300 plus seats for low-cost, medium-haul flights to Southeast Asia and Oceania.
ANA had said it is targeting to launch this third carrier by fiscal year 2022, which commences on 1 April 2022.
Another Y70 million will be used to redeem convertible bonds at maturity on 16 September 2022. The remainder will go towards long-term debt repayment by end-March 2024, the company adds.
ANA Holdings reported an operating loss of Y116 billion for the six months to 30 September, cutting its red ink on the back of strict cost control measures. The group saw operating revenue for the period rise nearly 48% year on year to Y431 billion, helped by strong cargo demand.
Still, it expects to be loss-making for the full-year, forecasting an operating loss of Y125 billion — compared to the Y28 billion profit it previously forecast in April.