Japan's two biggest airline operating groups both reported progress in their recovery from the pandemic in the third quarter, including All Nippon Airways returning to the black for the first time in two years.
The carrier's parent ANA Holdings posted an operating profit of Y100 million ($871,000) for the three months ended 31 December 2021. The small profit marked the group's first time out of the red in eight quarters and beat its own projection that it would not return to profit until the fourth quarter of its financial year.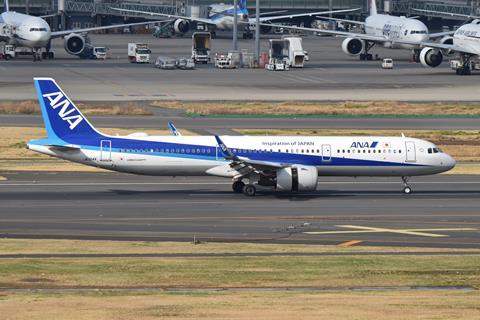 The profitable third quarter helped ANA narrow its nine-month loss to Y115.8 billion, down to roughly a third of the Y362.4 billion the group reported for the same period in 2020.
ANA revenues over the first nine months were driven by the cargo and domestic markets.
Freight generated Y256.4 billion of the group's Y738 billion revenues over the period, while the three months represented a fifth consecutive quarter of record cargo revenues.
Domestic flights accounted for Y206.5 billion revenues, while international flights – still stymied by travel restrictions – generated only Y48.2 billion over the April-December 2021 period.
ANA though is sticking to its forecast of a loss of Y125 billion for the full year, based on group revenues of Y1,060 billion. That indicates it expects a small operating loss in the fourth quarter.
Rival Japan Airlines Group also left its full-year guidance unchanged after reporting a further narrowing of its operating losses and that it had been cash-positive in its third quarter.
JAL posted an EBIT loss of Y31.5 billion for the third quarter, marking a continued improvement on losses incurred in the first and second quarters. For the nine-month period JAL posted an EBIT loss of Y183.3 billion, an improvement of Y110 billion on the same period last year.
That was based on revenues of Y207 billion in the third quarter.
Similar to ANA only a small portion – less than 10% – of revenue was generated from international operations. The group's domestic business contributed Y84.5 billion, while cargo revenues accounted for Y62.6 billion.
JAL notes that demand recovery mainly in the domestic market helped the group to a positive cashflow for the period, the first time it has done so since the pandemic hit. It also recorded a positive EBITDA of Y11.8 billion for the quarter.
"Considering the cargo revenue increase and further cost reduction as well as unforeseeable effects of new variants to passenger demands, we determined not to change our forecast at this moment," the airline says. In November JAL projected a full-year EBIT loss of Y198 billion.