Asian carriers have announced further reductions as the coronavirus outbreak persists.
Starting this week, Korea Air is suspending most European and US flights through April, while changes to Japan service remain in place until the end of May. It is also reducing operations to major cities such as Chicago, New York, San Francisco, London, and Bangkok.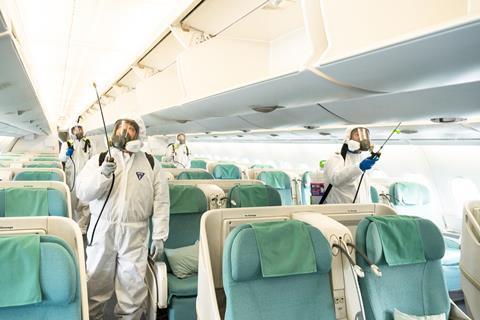 For the next two months, compatriot Asiana Airlines will reduce operations to Italy and Portugal, and within Asia, China, Taiwan, Thailand, and Vietnam. It is also lowering the frequency of services to Japan, Singapore, Spain and Turkey.
All Nippon Airways (ANA) and Japan Airlines (JAL) have announced cancellations on domestic services for the week to 12 March. ANA is suspending China services to end-March, while JAL is cutting frequencies to Taiwan and South Korea this month.
Various carriers in Southeast Asia are cutting operations to South Korea, which in recent weeks experienced a surge in the number of coronavirus cases. Vietnam Airlines and VietJet Air will suspend service from 5 March, with no mention when these will resume. Philippine Airlines has cancelled most flights from Manila for the rest of March, while Philippines AirAsia says flights from Manila, Cebu and Kalibo are affected.
Thai Airways International, which previously announced reductions on services to Singapore and South Korea, is making further cuts in both sectors. Flights to Japan, the Philippines, Bangladesh, United Arab Emirates, Europe, Oman and Pakistan, along with the Bangkok-Chiang Mai route, have not been spared either.
Singapore Airlines announced further changes to "temporary reductions" and now sees a 10.3% decrease in ASK capacity until end-May, versus 7.1% at the last update. The latest changes affect flights to Australia and New Zealand, South Asia and South Africa.
In India, low-cost operator IndiGo stated on its website that all flights to Chengdu and Guangzhou have been suspended until 14 June.