Fiji Airways has secured a $65 million liquidity support facility from the Asian Development Bank (ADB).
The flag carrier on 12 March inked a $40 million loan from ADB and $25 million from the ADB-administered Leading Asia's Private Infrastructure Fund (LEAP).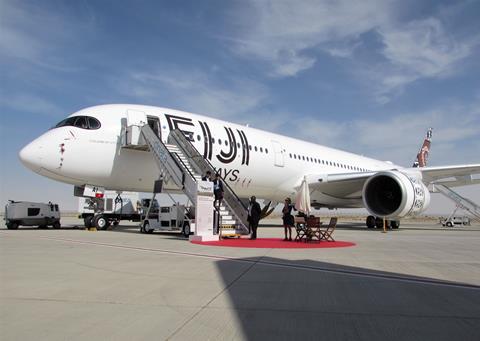 "The support facility is to help the airline cover operating costs and meet financial obligations while the travel demand remains non-existent due to the pandemic-induced border closures," Fiji Airways said in a same-day statement.
"Covid-19 has crippled the international aviation industry," states Jackie Surtani, director of ADB's Infrastructure Finance Division, for East Asia, Southeast Asia, and the Pacific, at ADB's Private Sector Operations Department.
He adds: "This has severely affected Fiji and other Pacific countries which rely on air links for critical freight, health, education, communication services, and especially for tourism – which accounts for around one-third of Fiji's gross domestic product."
Fiji Airways' managing director and chief executive, Andre Viljoen says that ADB's financial support has come "at this critical time" and adds that the airline is "focused on its 'future fit' measures to survive and thrive once borders [reopen]".
According to ADB's website, LEAP provides co-financing to non-sovereign infrastructure projects, provided in the form of loans, equity investments, and mezzanine finance transactions.
A summary of the liquidity support facility, posted on ADB's website and last updated on 27 January, states: "The project supports Fiji Airways' effort to sustain its business during the Covid-19 crisis and through to its return to profitable operation."