Asiana Airlines narrowed its full-year loss in 2020 and managed to rebound to profitability in the fourth quarter, despite the ongoing impact of the coronavirus pandemic.
The South Korean carrier reported a full-year operating loss of W70.3 billion ($63.5 million), down from a loss of W487 billion in 2019. Fourth quarter operating profit was W17 billion, reversing a W323 billion loss in 2019's fourth quarter.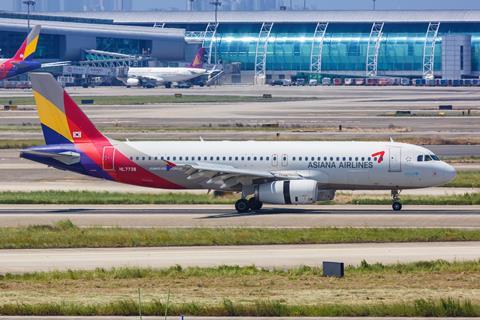 At a net level, its loss likewise narrowed. The company reported a W265 billion full-year net loss last year, compared with a W763 billion net loss in 2019. In the fourth quarter of 2020, Asiana made a net profit of W166 billion, reversing a W325 billion net loss in 2019's fourth quarter.
Full-year revenue decreased 40% to W3.56 trillion compared to 2019, while fourth quarter revenue fell 39% to W881 billion.
The "remarkable" performance of the airline's cargo division made up for "sluggish" passenger demand, Asiana says in a 16 February press release. Cargo sales increased 64% compared to the previous year to W2.14 trillion.
The Seoul-based airline also used its "geographical advantage" to focus on operating flights to transport personal protective equipment produced in China and Southeast Asia to the Americas and Europe. It also benefitted from transporting electronics, which were in greater demand due to "the spread of non-face-to-face culture".
In addition, irregular flights were added to routes in the USA, where cargo demand is high, resulting in an 86% increase in US route sales compared to the previous year.