Asiana Airlines has commenced operations with an Airbus A350-900 partially retrofitted as a maindeck freighter, as it plans scenic flights with its grounded A380s.
The A350 renovation work involved removing 283 economy class seats and installing a steel panel on the floor "to ensure safety", says the carrier.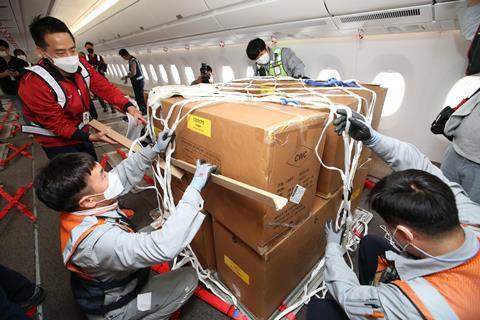 The company attributed the decision to boosting profitability amid the coronavirus pandemic, which has badly hit passenger traffic.
The modification allows for an additional 5t of cargo to be carried, bringing the A350's total cargo load to 23t, says the carrier. It adds that this is the first time an A350 has been converted for freighter work. Cirium fleets data shows that Asiana A350s are configured with 283 economy seats and 28 business class seats.
The modified jet had its first flight on 23 September, flying 20t of IT equipment and electrical parts on the Seoul Incheon-Los Angeles route.
The airline says that Airbus assisted with the work, which has also been approved by the European Union Aviation Safety Agency.
In addition, the airline says it has modified a pair of Boeing 777-200ERs to allow them to carry 2t of additional freight, by removing the below-deck bunk space that is located underneath the cabin.
Cargo has been a bright spot for Asiana amid the coronavirus downturn. In August it reported that cargo operations helped it achieve a second-quarter operating profit of W115 billion ($140 million), compared with a W107 billion loss in the same period of 2019.
Separately, the airline is promoting a pair of scenic flights using its A380s. The flights will be operated on 24 and 25 October. They will depart from Seoul Incheon at 11AM for a two-hour flight over South Korean landmarks, including Jeju Island.
As with most Airlines, Asiana has grounded its A380s during the coronavirus pandemic.
Asiana has 10 A350-900s with a further 10 on order, and six A380s, Cirium fleets data indicates.
Corrected: The previous version of this story incorrectly stated that the 777-200ERs had seats removed. The airline has clarified that no seats were removed, but only the below deck bunks, adding 2t of cargo capacity.