Senior executives at South Korea's Asiana Airlines have offered to take a pay cut to help the company through a rough patch.
Chief executive Han Chang-soo has pledged to return 40% of his annual salary, while other executives and team leaders will return 30% and 20%, respectively.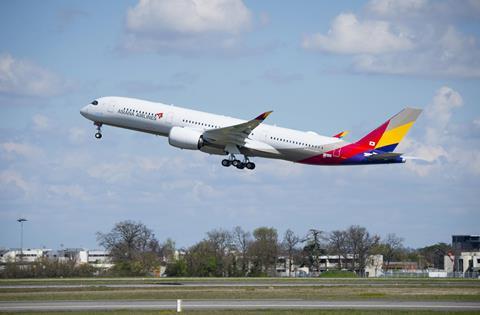 The leadership team have also submitted their collective resignation, though this is largely symbolic and unlikely to be accepted at this juncture.
"The intention is that management will take the lead in overcoming the crisis," Han states.
Asiana faces a crisis due to a severe decline in air travel demand, Han notes, first from last year's diplomatic row between South Korea and Japan and then from this year's coronavirus outbreak.
The company is acting to reduce costs and improve profitability, and its efforts are aligned with its three unions: the Asiana Airlines Pilot Labor Union, Asiana Airlines General Union, and Asiana Airlines Open Pilot Union.
All staff have been asked to take 10 days of unpaid leave while Asiana works to "drastically reduce non-operating activities that are not directly related to profitability."
While minimising staffing levels across functions, the airline will reduce its number of routes to China, by 79%, and to Southeast Asia, by 25%.
Cirium schedules data shows that from January to February, Asiana reduced capacity on routes to China about 50% and to Southeast Asia 10%, while total capacity was reduced 12%.
The number of coronavirus cases in South Korea has surged in recent days, and it is now the worst-hit outside of mainland China. With an increasing number of countries imposing travel restrictions to and from the country, air traffic could take a further beating.