Asiana Airlines' cargo business provided a significant boost to the carrier's earnings, helping the carrier eke out a modest profit after a loss-making 2020.
For the year ended 31 December, the Star Alliance carrier posted an operating profit of close to W457 billion ($383,000). This compares to a W63 billion operating loss reported in 2020.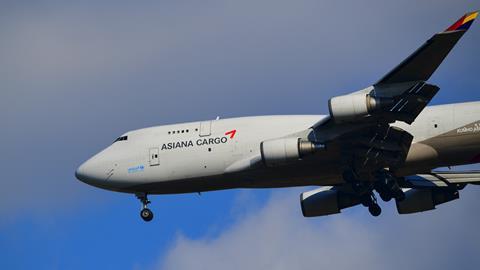 Asiana reported a net loss of W280 billion, narrowing 2020's W398 billion loss.
Revenues for the year rose nearly 16% to W4.1 trillion, despite weak passenger travel demand, particularly on the international network. Domestic revenue, however, saw a modest increase of 21% year on year.
A large part of full-year revenue came from Asiana's cargo business, which saw takings soar 47% year on year to a record W3.1 trillion. Asiana attributes the strong performance to a spike in demand on the back of congestion in the global logistics supply chain.
While the carrier has a fleet of dedicated freighters, it added a series of temporary freighters — by modifying existing passenger aircraft — in 2020 and 2021. These include Airbus A350-900s and A330s.
"By first putting the converted cargo-only airliners…on routes to the Americas and Europe, which have relatively high profitability, we increased the load volume of electromechanical and mechanical parts, semiconductors and manufacturing equipment, e-commerce goods to increase the sales of those routes in the previous year," states the carrier.
On a quarterly basis, Asiana remained profitable, with operating profits rising more than eight-fold to W213 billion in the three months to 31 December.
Quarterly revenue rose 54% year on year to W1.36 trillion.