Third-quarter profits were down year-on-year for Atlas Air Worldwide Holdings, the parent of cargo and passenger carrier Atlas Air, as the airline grappled with "operational disruptions".
The Purchase, New York-based airline said on 3 November that revenue rose to $1.1 billion in the third quarter of 2022, just slightly higher than the $1 billion in the same quarter last year.
Profit fell to $60.1 million from $119.5 million earned in the three months ending 30 September 2021.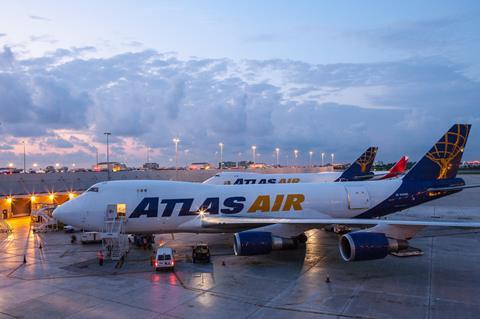 "We continued to see strong demand for our services during the third quarter," says John Dietrich, Atlas Air's chief executive. "Notwithstanding this strong demand, our third-quarter performance was impacted by operational disruptions related to an increase in Covid-19 cases, particularly in July and August, as well as the effects of Hurricane Ian at the end of the quarter."
"The increase in cases and effects of the hurricane adversely impacted our crew availability and our ability to position them due to the widespread and well-publicized cancellations of commercial passenger flights," he adds.
Volume was down as Atlas notched 79,274 block hours in the third quarter, compared with 90,363 during the same three-month period last year. But a higher block hour rate "partially offset" the reduction in block hours flown.
Airline operations were less profitable during the quarter "primarily due to increased pilot costs related to our new collective bargaining agreement", higher overtime pay related to an increase in cases of Covid-19 among Atlas' employees, and lower aircraft utilisation.
Atlas did not hold a third-quarter investor call due to the company's pending acquisition. On 4 August, Atlas entered an agreement to be taken private by an investor consortium led by Apollo Global Management in an all-cash deal worth $5.2 billion. The transaction is expected to close later this year or in early 2023.
Meanwhile, Atlas has filed a definitive proxy statement with the US Securities and Exchange Commission (SEC) and will hold a related a special shareholder's meeting on 29 November.
Atlas has taken delivery of two new Boeing 747-8Fs this year and expects two more by the first quarter of 2023. "All four of these aircraft are placed with customers under long-term agreements," the company says.
By the end of the year, Atlas also expects to have purchased five existing 747-400Fs that have reached the end of their leases with other customers.
Additionally, Atlas is anticipating the delivery of four 777-200LRFs – one by the end of this year and three throughout 2023. All four jets will be placed with the Mediterranean Shipping Company under a long-term aircraft, crew, maintenance and insurance agreement.