US air cargo company Atlas Air Worldwide came closer to going private on 29 November as shareholders voted to approve a pending acquisition by an investor group led by Apollo Global Management.
The deal, which would de-list Atlas from the Nasdaq stock exchange, was previously approved by the company's board of directors and drew support from 99% of voters during the special meeting – representing about 81% of outstanding shares, Atlas says.
The final votes will be filed in an 8-K form with the US Securities and Exchange Commission. Pending approval from federal regulators, Atlas expects to close the deal with Apollo – a New York City-based private equity firm with some $523 billion of assets under management as of 30 September – and investment partners JF Lehman and Hill City Capital in the first quarter of 2023.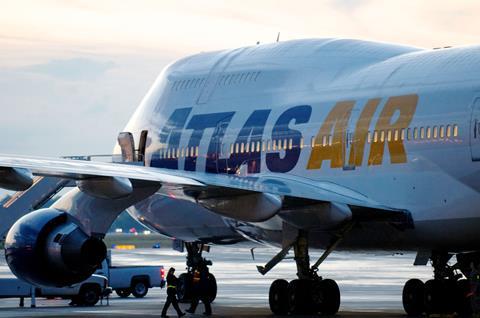 "We are pleased to receive overwhelming support from Atlas Air Worldwide shareholders, who recognise this transaction provides compelling value to them while giving us the opportunity to execute our strategic plan," says John Dietrich, CEO of Atlas Air Worldwide. "This is another step forward to completing the transaction as we advance our leadership in airfreight and deliver high-quality services to our customers around the world."
Purchase, New York-based Atlas operates a fleet of Boeing 747s, 767s and 737s, and recently took delivery of a Boeing 777-200 freighter – the first of four Atlas plans to operate on behalf of MSC Mediterranean Shipping. Atlas also recently took delivery of the second-to-last production 747, which it will fly for Swiss shipping and logistics company Kuehne+Nagel.
Atlas has been riding strong demand for air freight to compensate for operational challenges in recent months. During its quarterly earnings call on 3 November, Atlas reported a profit of $60.1 million – lagging the company's $119.5 million performance in 2021 – and revenue of $1.1 billion in the three months ending 30 September.
"We continued to see strong demand for our services during the third quarter," Dietrich said. "Notwithstanding this strong demand, our third-quarter performance was impacted by operational disruptions related to an increase in Covid-19 cases, particularly in July and August, as well as the effects of Hurricane Ian at the end of the quarter."