Atlas Air Worldwide Holdings reported strong third-quarter results as the demand for air freight transportation continues to outstrip supply, and problems with ground-based shipping networks are slowing down the global supply chain.
The Purchase, New York-based parent company of cargo and charter carriers Polar Air, Atlas Air and Southern Air, on 3 November says quarterly revenue was $1.02 billion, up from $809.9 million in the three months between July and September 2020.
The company posted a $119.5 million net profit for the quarter, up from $74.1 million during the same period in 2020.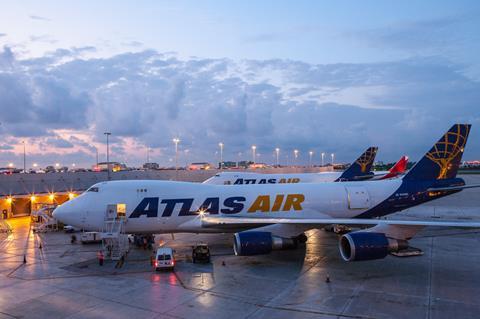 "This is a very special moment for our company, we've just completed the best quarter in our history and we expect the next quarter will be even better," says Atlas Air Worldwide chief executive John Dietrich. "Our strategic focus on express, e-commerce and fast-growing global markets is driving robust demand for our services and producing strong financial performance," he adds.
The cargo and charter operator flew 90,363 block hours during the three-month period that ended on 30 September, compared to 90,528 in the third quarter of 2020, the carrier says.
"Global airfreight volumes continue to exceed pre-pandemic levels, while industry capacity, particularly on long-haul international routes, has not kept pace with demand," Dietrich says. "Supply chain bottlenecks, including the widely reported challenges at ocean ports worldwide, are driving increased modal shift to air as manufacturers, retailers and shippers strive to replenish very low inventory levels, especially ahead of the holiday shopping season."
The carrier expects revenue in the fourth quarter to once again top $1 billion, and net income to grow "in excess of 20%" compared to the same quarter in 2020.
DEMAND REMAINS ROBUST
Demand for cargo transport, company executives says, will continue to be strong, even as major passenger carriers once again reinstate flights and expand their international networks, bringing more belly cargo capabilities back into their networks.
"As borders start to open up that belly capacity will come back, but the demand for air freight is beyond pre-pandemic levels," Dietrich says. "We are not expecting the [passenger airline] capacity to come back to pre-pandemic levels, and not at the pace that [cargo] capacity is coming back into the market."
The company says, however, that it's still unclear if that capacity will be returning on "typical cargo trade lanes" or if there will be more point-to-point routes.
"We are watching that closely," he adds. "Also, how much transpacific capacity, which is a really important trade lane for us, will come back. We see that coming back much more slowly on the back end of the recovery."
Between May and August the carrier acquired outright three Boeing 747-400F aircraft that had been previously leased. In October, it acquired a further three of the type. Five more will be purchased when the existing leases expire in 2022.
"Acquiring these eleven aircraft underscores our confidence in the demand for widebody freighters and will provide strong returns for Atlas in the years ahead," the company says.
PILOT CONTRACT
The carrier finally resolved its labour conflict with its pilots union, signing a five-year joint collective bargaining agreement. The agreement paves the way for the company to complete the merger of Atlas Air with Southern Air, which it acquired in 2016, executives say.
"Under this agreement, all of our pilots will receive higher pay, quality of life improvements and enhanced benefits in line with our competitive landscape," Dietrich adds.
However, the industry's labour shortage has also not left the company unscathed.
"We feel good about our labour available but that's not to say we don't experience some of the challenges other companies do," Dietrich says. "Pilot availability is an industry issue - the majors are hiring, and that certainly has an impact in the industry."
The agreement with pilots "provides competitive rates compared to our competitors and the industry we serve", he says.