Atlas Air Worldwide Holdings, parent of Atlas Air, reported a healthy profit for the fourth quarter of 2021, which it attributes to high demand, increased aircraft utilisation, lower maintenance costs and new and extended long-term customer contracts.
Profit at the Purchase, New York-based company was $177 million for the quarter, slightly down from $184 million during the same three months of 2020. For the full year, the company's profit rose to $493 million from $360 million in 2020.
Total revenue for 2021 topped $4 billion, compared to $3.2 billion in 2020. In the fourth quarter, the company clocked $1.2 billion in revenue compared with $932.5 million in the prior-year quarter.
Atlas flew 91,985 block hours in the quarter, slightly less than the 96,079 in the same period in 2020.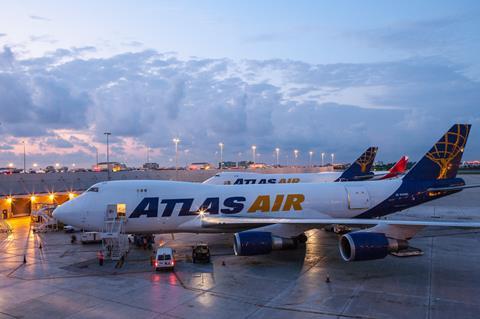 "2021 was another outstanding year with excellent financial and operating performance," says chief executive John Dietrich.
For the new year, the carrier expects demand will remain high, anticipating revenue of $1 billion during the first quarter. It expects to fly approximately 85,000 block hours, Dietrich says.
"This outlook reflects higher yields, including the contribution from numerous new or enhanced long-term customer contracts, as well as higher pilot costs from our new joint collective bargaining agreement that went into effect in September 2021," he adds.
Atlas has a substantial cargo business, flies passenger charters, including for the US military, and leases jets under "dry" (meaning aircraft-only) and ACMI (aircraft, crew, maintenance and insurance) agreements.
The company expects to take delivery of four Boeing 747-8 Freighters between May and October, and has placed all under long-term agreements. Two will be operated for Swiss freight forwarder Kuehne & Nagel.
"The Boeing 747-8F serves an incredibly important role in global air freight, with advanced technology that allows for lower fuel consumption, higher capacity and unique nose-loading capability," Dietrich adds.
It's also adding four new 777-200LRFs, "for which there is very strong demand", Atlas says. One will be delivered in the fourth quarter and three next year.
"Acquiring these widebody freighters underscores our confidence in the demand for dedicated international air freight capacity, particularly in express, e-commerce and fast-growing global markets," Atlas says.