Low-cost start-up carrier Avelo Airlines has appointed Wolfe Research analyst Hunter Keay to be its chief financial officer.
Keay will begin work at the Houston-based airline on 23 February, Avelo tells FlightGlobal on 15 February.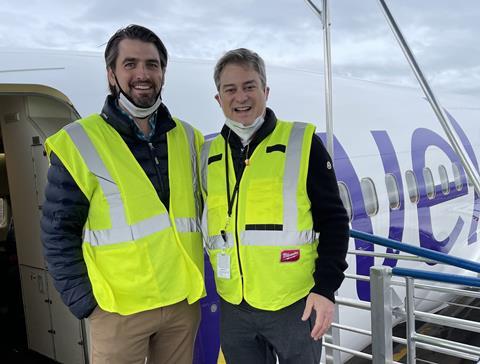 "During our search, I met with many high-calibre candidates from within and outside the airline industry," Avelo chief executive Andrew Levy writes in a LinkedIn post. "The strong interest in joining Avelo is a testament to what we have built so far as well as the tremendous opportunity we have to continue to build a great business. While there were many strong candidates, Hunter stood out."
Keay is managing director and senior analyst covering the airline and aerospace & defence sectors at Wolfe, a position he has held since 2011, Levy writes. Prior to Wolfe, he worked at investment banks Stifel Nicolaus and Legg Mason, as well as management consultancy Pricewaterhouse Coopers and IBM.
"I'm especially excited to see how Hunter's forward thinking will stretch us in our pursuit of building the different and better kind of airline that brought so many of us to Avelo," Levy says.
Avelo launched last May, initially from Los Angeles-area Hollywood-Burbank airport. In its start-up phase, the carrier connected Burbank to 11 destinations across the western third of the USA with out-and-back trips.
Avelo chose cities with limited air service, like Medford in Oregon, Tucson in Arizona and Pasco in Washington, but also flies to secondary airports near larger metropolitan areas, like Salt Lake City (Ogden). The carrier's target customers are price-conscious leisure passengers looking for an easy connection from the Los Angeles area without the hassle of dealing with huge airports like Los Angeles International.
In November, the carrier opened an East Coast base at Tweed-New Haven airport, about 60 miles (100km) northeast of New York City. It has been flying from there to popular warm-weather destinations Tampa, Fort Myers, Orlando, West Palm Beach, Sarasota and Fort Lauderdale in Florida.
The carrier and currently flies to 19 cities with a fleet of six Boeing 737NG aircraft. In 2022, Avelo plans to acquire nine further aircraft, and serve "at least" 40 US markets.
In January, Avelo said it raised an additional $42 million in a second round of funding, bringing its total capital base to $160 million.