Avianca says initial motions in the proceedings for reorganisation under its Chapter 11 bankruptcy filing have been approved by the US Bankruptcy Court for the Southern District of New York, allowing it to pay employees and creditors and maintain some operations.
The Bogota-based airline voluntarily filed for Chapter 11 bankruptcy protection earlier this week following the "unpredictable impact" of the coronavirus crisis on its operations.
Avianca Holdings is one of 39 companies participating in the joint filing, with others including Avianca Ecuador, Avianca Costa Rica, Tampa Cargo and Taca International Airlines.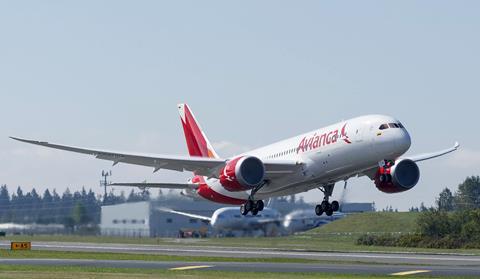 "We are very pleased with the prompt approval by the court of our "first day" motions related to employees, customers, travel agency partners and suppliers, among others," says Avianca chief executive Anko van der Werff on 12 May. "This was an important and positive step forward in our reorganisation and supports Avianca continuing to operate through this process."
Van der Werff adds that the process is a "responsible way" to protect and preserve the 100-year-old company as it navigates the coronavirus' impact on the airline, tourism and air transport industry. Prior to the crisis, the Colombian carrier was implementing an ambitious new strategic restructuring plan called "Avianca 2021", following the bankruptcy of Avianca Brazil and after a several management changes last year.
The court approved several motions that allows Avianca to pay wages, compensation and benefits, maintain customer service programmes and honor obligations to travel agencies, vendors and suppliers.
On 10 May, Avianca voluntarily filed for bankruptcy in order to restructure its balance sheet and obligations and to manage aircraft orders, leases and other responsibilities. In the filing, Avianca said 14 jets on lease from AerCap, GECAS, GOAL, Orix Aviation were "excess aircraft" and no longer required under the airline's business plan.
The airline says its next court date will be 11 June.