Colombia's flag carrier Avianca has submitted a reorganisation plan to a US bankruptcy court.
The Bogota-based airline's plan, submitted to the bankruptcy court for the Southern District of New York on 10 August, outlines its obligations to creditors and the settlement of claims. It says a new strategy will help it simplify operations and position Avianca to thrive in the Latin American market.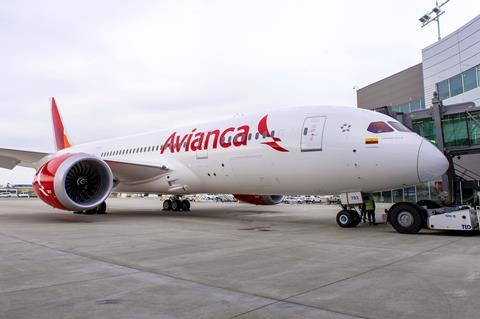 "Avianca expects to build on its core strengths, including its strong operational performance, increased capacity, brand recognition, its market leadership position in the vibrant Latin American airline market, optionality with more point-to-point routes, its membership in Star Alliance and the strength of its LifeMiles programme, while becoming a more cost-efficient airline, in order to emerge from these Chapter 11 cases as an elite competitor for years to come," the airline says in the filing.
Avianca and its Latin American peers Aeromexico and LATAM Airlines declared bankruptcy last year after the coronavirus decimated global air travel demand. Airlines shrunk networks, retired and stored aircraft, and laid off staff in an effort to preserve cash.
In documents submitted to the court this week, Avianca outlines a new fleet plan and says it expects to emerge from the proceedings with 109 aircraft, down from the 158 it operated prior to 2020. It has also been working with airframers and lessors to restructure future aircraft deliveries.
The airline has 66 aircraft in service and 29 in storage, according to Cirium fleets data.
"Since the onset of Covid-19, Avianca has taken further steps to streamline its fleet profile and reduce the number of future deliveries. As to future deliveries … Avianca currently is undertaking negotiations with Airbus and Boeing to assume and amend or reject these purchase agreements. Avianca also may reject aircraft leases of all 10 new A320neo aircraft that would have been leased from BOC Aviation starting in 2023."
Between now and 2029, the airline says it will take two new 787s and 88 A320neos. It has entered "into approximately 58 new leases, with deliveries between 2021 and 2023". Those are in addition to 15 leases that have a "simplified lease structure and better economic terms".
In addition, the airline is adding more seats to A320s, increasing their capacity 24% to better compete with low-cost carriers sprouting up throughout the region.
"These low-cost carriers' penetration of Avianca's home markets has driven significant and lasting downward pressure on fares, which, when taken together with evolving passenger preferences, has compelled Avianca to further adapt its business model," the airline says in the filing. "The company believes that the implementation of this strategy, in conjunction with the execution of over 300 cost-saving initiatives, will enable Avianca to achieve a best-in-class cost structure."
The next step in the process is a hearing at the court scheduled for 14 September.
The company has said it hopes to exit the Chapter 11 proceedings at by the end of the year.