Brazil's Azul narrowed its loss in the first three months of the year compared to 2020, as a bump in cargo sales partly offset steep declines in passenger revenue.
The Sao Paulo-based carrier lost R$2.7 billion ($511 million) in the first quarter, down from R$6.1 billion in the same three months one year ago, it says on 6 May. Revenue in the quarter came to R$1.8 billion, down 40% year-on-year.
Executives see glimmers of hope for the passenger business as coronavirus infections wane following a spike in Brazil in March, but they plan to make cargo transport key to the company's future.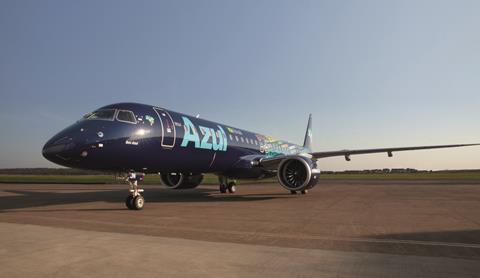 "During the quarter, Brazil was clearly impacted by the second wave of the Covid-19 pandemic," chief executive officer John Rodgerson says. "Daily case counts showed a steady increase, resulting in restrictive measures around the country in March. As a result, demand dropped and we quickly managed our capacity and liquidity in response."
The worst, however, is likely over, he adds.
"There is strong reason to believe we will experience [an] inflection point in next two to four weeks," Rodgerson says.
The airline credits its ability to climb from the Covid-driven slump to fleet flexibility. Azul operates various aircraft types, from nine-passenger Cessna Caravans to widebody Airbus A330s, meaning it can easily and quickly swap aircraft based on demand.
"We don't need to keep a flight in a market when we can just down gauge it and have the right metal out there," says Azul founder David Neeleman "That's a competitive advantage that we have, and that we have invested in over the course of the past 10 years. It's crucial at this stage of the game."
At the end of the first quarter, Azul had 159 aircraft – one more than at the end of 2020.
CARGO IS KEY
Azul's cargo revenue rose 53% year on year to R$228 million during the first quarter. Though still a small portion of overall sales, the cargo segment has great potential and will help the carrier grow in coming years, Azul says.
Executives anticipate Azul's 2021 freight revenue will double year-on-year, R$1 billion.
The carrier expects the upward trend in cargo will continue as it partners with e-commerce companies that are searching for delivery solutions to far-flung Brazilian cities. In March, Neeleman said Azul expects at least 40% year-over-year cargo growth in the coming years.
E-commerce companies in Brazil are in an "arms race", Neeleman says, adding that the freight and logistics businesses are "certainly the story of Azul over the next couple of years".
As people sequestered at home during the virus' tear across the country, many turned to online shopping. With its large network of destinations – reaching about 4,000 communities across the geographically vast country – and range of aircraft sizes, the carrier views itself as ideally positioned to benefit from the online shopping boom.
"We get to a large part of the population in under two days," says Abhi Shah, Azul's chief revenue officer. The freight market in Brazil is worth about R$300 billion annually, of which R$45 billion could be captured by Azul, he adds. "That's the market we are going to fish in."
"If we are [at] a billion reals today and have 45 billion that we can capture, that gives you an idea of how much we can grow," he adds.