Brazil's Azul has posted record second-quarter revenue as it profited from increased demand for corporate travel and freighter services.
The Sao Paulo-headquartered airline recorded revenue of R$3.9 billion ($760 million) in the second quarter of 2022, usually seasonally the weakest of the year. That's more than double the revenue it achieved in the same three months in 2021, and 50% higher than during the same three months of pre-pandemic 2019.
Azul says it was the third consecutive quarter with net revenues above pre-pandemic levels.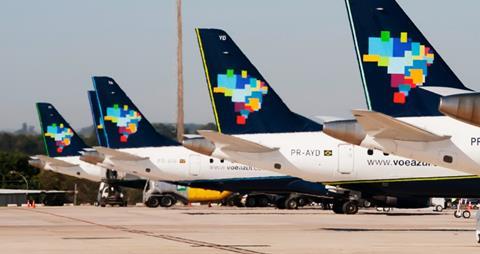 But the company recorded a R$2.6 billion loss, owing in large part to currency fluctuations and the higher cost of jet fuel.
Expenses in the quarter were R$3.8 billion, up 80% from R$2.1 billion in the same quarter a year earlier, driven by a nearly 81% rise in jet fuel prices in addition to the airline's capacity increase as measured in available seat kilometres (ASKs) of almost 60% in the same time period.
"The second quarter of 2022 proved once again the strength of our business model," chief executive John Rodgerson said on the company's quarterly earnings call on 11 August. "While geopolitical volatility led to higher fuel prices and the devaluation of the Brazilian real, we demonstrated once again our disciplined capacity deployment by focusing our growth in markets where we are strong."
Azul's cargo business as well as its package vacations unit Azul Viagens both are growing faster than the company as a whole, executives say. Viagens had stronger bookings in July than it did in June, even though the primary travel month for the South American winter is July. That's a "good indication" that the leisure market remains strong, Azul's chief revenue officer Abhi Shah says.
Azul Cargo Express, which grew 29% year-on-year, is triple the size it was in 2019, executives say, with above-average margins continuing into the foreseeable future.
Corporate travel has returned as well, with the company reaching 130% of 2019 corporate revenue during the quarter between April and June. Passenger volume is about 80%, with average fares 50% higher, Shah says.
"There's still more corporate volume recovery that will happen in the second half of the year," he adds.
Azul has introduced 35 new destinations since 2019, bringing the airline's destination count to 151, and on 80% of its routes it is the only air carrier, executives say. The airline currently operates about 900 flights every day, with that number anticipated to rise to 1,000 by October, Azul's founder David Neeleman says.
New slot rules at Sao Paulo's busy Congonhas airport have the potential to boost Azul's presence in that important market as well, Rodgerson adds.
"The combination of this new rule along with an increase in Congonhas' capacity ahead of its privatization will markedly benefit customers by increasing their options at this airport," he says. "We believe that through these initiatives Azul will more than double its daily departures at Congonhas over the next two years."
The airline ended the quarter with 167 aircraft, one more airframe than it had at the end of the first quarter, and six more than at the end of June a year ago.
The company expects to end 2022 with total capacity at about 10-12% higher than it was in pre-Covid-19 2019, with a similar growth rate next year, adds Shah.