British Airways chief executive Sean Doyle believes the increased mix of premium-economy seating in its capacity is well timed to cater for the likely slower pick-up in business traffic during the pandemic recovery phase.
The Oneworld carrier has been undertaking a cabin reconfiguration which includes stepping up its new premium-economy and business-class offerings.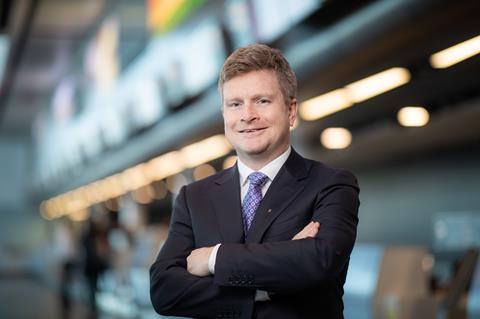 Speaking during parent IAG's full-year results briefing today, Doyle said: "We are increasing the number of seats that are available for sale in World Traveller Plus materially and I think that plays well for the development of the market over the next couple of years.
"We do anticipate corporate travel will lag other segments like VFR and leisure, and World Traveller Plus is a very strong leisure product. So I think things like the retirement of the 747 has actually accelerated the development of that product mix and I think it works very well with the trajectory of recovery we anticipate."
As part of the ongoing reconfiguration, the airline has been reducing its first-class footprint and rolling out an upgraded business-class product. "About 28% of our fleet has the new Club World suite," says Doyle.
BA recorded an operating loss of €3.88 billion in 2020 on revenues down 70% during the pandemic-hit year.
Doyle, the former Aer Lingus chief executive who took the helm of the carrier last autumn, believes BA is well placed to recover once markets re-open.
"Over the medium term, it is fair to say BA has taken a lot of restructuring," he says. "We have 9,500 fewer employees in the company than a year ago, so I think we are right-sized for the kind of outlook we have over the next number of years.
"We've got a very exciting platform now to build from. The company reacted very quickly to the crisis, took some very tough decisions," he adds. "I think that leaves us in a position to recover and recover very effectively, and I think we do see real evidence of pent-up demand, which we saw this week [following the UK government roadmap announcement] when confidence comes back and when governments enable travel."
Asked about the carrier's plans for services from London Gatwick this summer, Doyle said BA is waiting to see what the season holds and continues to work with the UK Government's global travel taskforce.
"Our network decisions will follow that process," he says. "But we are operating long-haul operations out of Gatwick, we are operating long-haul and short-haul out of Heathrow, and we are just looking to optimise both those portfolios in the short-term and we'll make a call when we know more about the demand environment over the summer."