Vietnamese carrier Bamboo Airways is poised to launch direct charter services to the US West Coast, with a long-term eye on California's Vietnamese diaspora.
The airline confirms that it will launch the direct charters from the end of June or beginning of July with Boeing 787-9s. Should the flights take place, it would mark the first direct service between the two countries.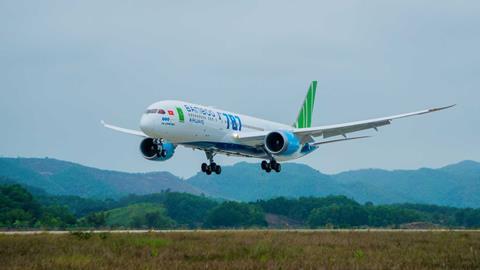 "The United States is a potential market, as California alone has the largest overseas Vietnamese community in the world. Despite the considerable demand for travel, there is no non-stop flight connecting Vietnam and the US at the moment," says the carrier.
"Besides, US-Vietnam trade is being significantly promoted, which will lead to a higher travel and trade exchanges demand."
The airline has also secured landing slots for both San Francisco and Los Angeles from 1 September, although these will only be used should international travel be reopened and favourable market conditions prevail.
Direct services between Vietnam and the USA have been mooted for several years. In the mid-2010s, low-cost carrier VietJet said the US would be a key destination were it to launch a long-haul, low-cost operation.
Vietnam Airlines has also shown interest in US services. In September 2019 it secured a foreign air carrier permit from the US Department of Transportation to operate flights between Vietnam's two biggest cities, Ho Chi Minh City and Hanoi, to several destinations in the USA – albeit these services likely would have flown through Taipei, Osaka, or Nagoya.
This followed the Federal Aviation Administration's awarding Vietnam Category 1 status in February 2019.
In an interview with FlightGlobal in mid-2019, former Vietnam Airlines chief executive Duong Tri Thanh acknowledged that there is strong demand on the US-Vietnam route, but felt the revenue would not be sufficient to cover operational costs.
He noted that American carriers preferred routing their Vietnam-bound traffic through hubs in North Asia, and that Korean and Taiwanese carriers were very strong operating US-Vietnam routes with one-stop services.
Vietnam Airlines and VietJet have both appeared to put the idea of US flights on the backburner as they grapple with the collapse in international air traffic amid the coronavirus pandemic.
While Bamboo is bullish on US services, much will depend on the Covid-19 situation in Vietnam, which has prompted Hanoi to largely seal off the country's borders. According to aggregator Our World in Data, Covid-19 vaccinations in Vietnam are proceeding slowly, with just 42,100 out of its 96.5 million population fully vaccinated.
According to Cirium fleets data, Bamboo has 29 in-service aircraft, including three 787-9s. Airbus A320 family aircraft and Embraer E-Jets comprise the majority of its fleet.