Vietnam's Bamboo Airways has confirmed that it intends to make its debut on a local stock exchange in the third quarter.
The company expects to list 105 million shares on either the Hanoi or Ho Chi Minh City stock exchange at an initial price of D60,000 ($2.60) each, which could put its market capitalisation at $2.73 billion, chairman Trinh Van Quyet was cited as saying in a 19 March Reuters report. Bamboo confirmed those comments and others made in the article when contacted by Cirium.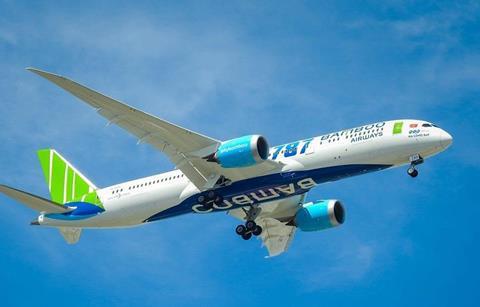 "Market conditions are ripe for the [listing] plan," Quyet said.
A lessor with exposure to the carrier tells Cirium that the IPO would be good for Bamboo's lessors and other suppliers.
"In Vietnam, we are seeing a way out of the pandemic," the person adds, saying the carrier's IPO would be an opportunity for an investor "looking to get into an airline that's done well and is still flying" amid the crisis.
Bamboo leases 27 aircraft from 10 different lessors, according to Cirium fleets data. An additional two aircraft, both Embraer 195s, are managed by Great Dane Airlines.
This is not the first time Bamboo has talked about going public.
In November 2019, it announced plans for an IPO, aiming to raise about D2.2 trillion in Hanoi or Ho Chi Minh City.
Bamboo intends to expand its aircraft fleet to 40 by the year-end, up from 28, said Quyet. It also plans to increase its domestic market share from 20% to 30% during the same timeframe.
When asked whether the proceeds of the IPO would be used for this fleet expansion, Bamboo tells Cirium: "We have had the plan for fleet expansion since we started the airline".
The airline is ready to resume international commercial flights once the government lifts a suspension due to the Covid-19 pandemic, said Quyet.
Vietnam's prime minister Nguyen Xuan Phuc on 17 March issued a call for preparations to reopen international air travel, including the possibility of introducing vaccine passports. The nation is also planning to have its own domestically developed Covid-19 vaccine, Nanocovax, available by the fourth quarter of this year and put into use by 2022, according to a 17 March Reuters report that cited the country's health ministry.
A successful move to go public would follow other recent airline IPOs, including that of US operator Sun Country Airlines, which on 17 March began trading on Nasdaq under the ticker "SNCY" with a price of $33 per share, higher than its original expectation of $21-23 per share, giving the low-cost carrier a market value of $1.84 billion.
Meanwhile, another US carrier, Frontier Airlines, is set to list on the Nasdaq after it filed for an IPO with the US Securities and Exchange Commission on 8 March.
Airlines in Southeast Asia have been known to talk up IPOs long before they actually occur – if they do at all. Privately held Lion Group in Indonesia has been talking about an IPO since as far back as 2004.