BOC Aviation reported 100% aircraft utilisation for the three months ended 31 March 2020, though lease payment collection rate for the period was 94%.
Data from the company's historical stock-exchange filings show that since 2008 – the first full-year the company operated as BOC Aviation after Bank of China acquired Singapore Aircraft Leasing Enterprise in 2007 – its collection rate was at its lowest in 2019, at 96.9%.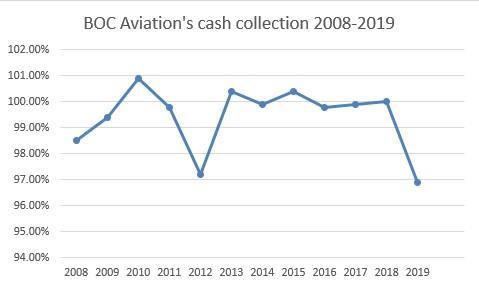 Before that, the rate was 100% in 2018, 99.9% in 2017, and 99.8% in 2016. Quarterly breakdowns for years prior to 2020 are not available.
In the recently concluded quarter, the lessor signed purchase agreements for 48 aircraft, of which 38 have already been placed on long-term leases. 10 Airbus A320neos have yet to be placed and these are due to be delivered in 2023-2024.
At quarter-end, the lessor had 567 aircraft in its portfolio, comprising 323 owned, 40 managed and 204 on-order aircraft. Its owned portfolio has an average age of 3.4 years and an average remaining lease term of 8.5 years.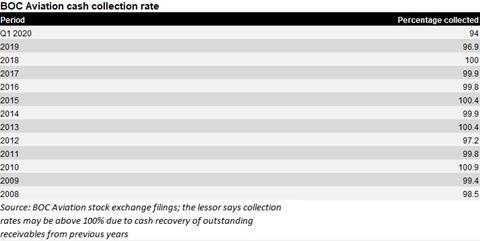 As at 31 March, BOC Aviation has $3.6 billion in available liquidity. During the first quarter, the company raised additional $1.3 billion in financing from the loan and bond markets and repaid more than $950 million of bonds on schedule under its global medium-term note programme.
Phang Thim Fatt, chief financial officer, says: "We also increased the limit of [the note programme] to $15 billion from $10 billion, which provides us with the flexibility to continue accessing the debt capital markets for our future funding needs and supports the growth of our business."