US start-up carrier Breeze Airways has secured another $200 million in funding less than three months after beginning flights.
The Salt Lake City, Utah-based carrier says on 18 August that BlackRock and Knighthead Capital Management led the Series B funding round. Additional investors include Peterson Partners and Sandlot Partners, which helped launch the airline in May.
The airline has now raised more than $300 million in start-up capital.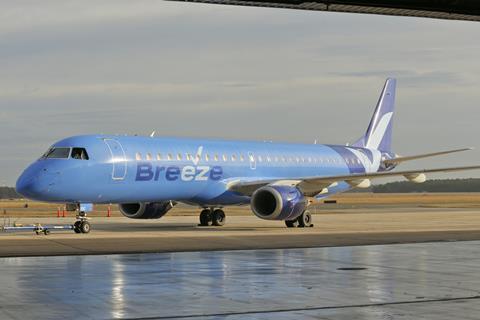 The additional investment "further validates our business strategy to offer new nonstop flights at reduced fares between smaller cities," says Breeze founder and chief executive David Neeleman. "We look forward to working with our new investors, humbled to be considered the best-funded start-up in US aviation history, and are excited about the growth that it will fuel."
Breeze began flying on 27 May, in the eastern half of the USA. Its routes include "point-to-point" flights to secondary cities that bypass major airline hubs.
The airline has been growing rapidly. It now flies 39 routes to 16 cities using 13 Embraer E190 aircraft. Later this year, Breeze expects to take delivery of the first of 60 new Airbus A220s.