US start-up Breeze Airways has unveiled its first Airbus A220, showing off the aircraft a Mobile event that comes several months after the company launched flights using Embraer regional jets.
Breeze also revealed the A220-300's cabin, which consists of 126 seats, including 36 "premium seats" laid out two-by-two across the cabin and 90 economy seats (including 10 with "extra legroom") in two-by-three layouts. Breeze compares its premium seat with other carriers' business-class seats.
"We stood up an airline very quickly. We added a lot of cities and a lot of routes," Breeze founder and chief executive David Neeleman says at the event. "Now we have the next hurdle… We have to certify this airplane" for operation.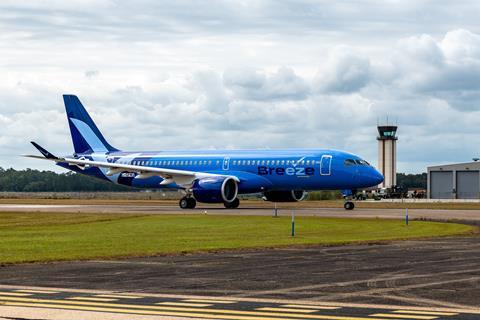 All seats on its A220-300s will have access to electric power and USB ports. Breeze will also offer "free, fast" in-flight wi-fi, says the carrier's chief commercial officer Lukas Johnson.
Breeze has placed orders for 80 A220-300s and intends for the type to start flying passengers in 2022. It plans to take delivery of the first A220-300 from Airbus before the end of October, and to have six of the jets in service by the second quarter of next year and 15 flying by year-end. Breeze expects to receive one aircraft monthly for the next six and a half years.
Led by former JetBlue Airways and Azul founder David Neeleman, Breeze evolved in recent years from a concept known as "Moxy" to an operational airline that started flying with one E190 and one E195 on 27 May, amid the pandemic.
Breeze primarily operates flights in the eastern half of the USA with a fleet that now includes a mix of 13 E190s and E195s, according to Cirium fleets data. The aircraft include jets formerly operated by Air Canada and Azul, which Neeleman has said "came cheap" due to the industry downturn.
Many of Breeze's flights leave from or arrive at Tampa, and the airline serves 16 secondary cities – including places like Charleston (North Carolina), Akron-Canton (Ohio), Bentonville-Fayetteville (Arkansas) and Norfolk (Virginia).
Breeze will use its A220-300s to begin "longer-haul flights, including new services in transcontinental markets that lack nonstop flights today", the airline says. Powered by Pratt & Whitney PW1500G turbofans, A220-300s have 3,400nm (6,297km) range.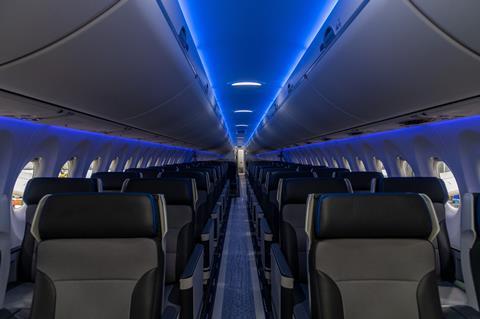 Breeze operates an ultra-low-cost carrier model, offering discount base fares and up-selling fares that include additional services. It launched flights with two branded fares – the baseline "Nice" and the step-up "Nicer", which includes a carry-on and checked bag. The carrier will sell A220 flights with a third, top-tier option called "Nicest", which includes a "premium" seat and free wi-fi.
Neeleman says the airline delivers better customer service than its competitors – an advantage for which his other airlines have been known.
Breeze has secured $200 million in start-up funding.