British Airways' drastic announcement that it could cut up to 12,000 jobs is the latest suggestion that normality in the airline industry is a thing of the past and efforts should turn instead to preparing for a slimmed-down 'new normal' once travel restrictions begin to lift.
In a 28 April letter to employees, BA chief executive Alex Cruz wrote: "What we are facing as an airline, like so many other businesses up and down the country, is that there is no 'normal' any longer."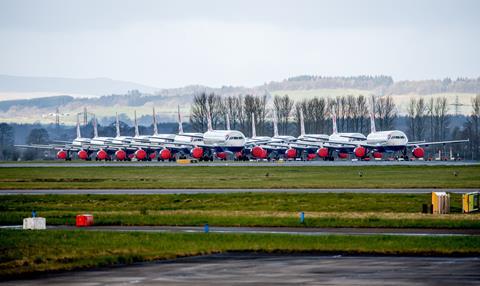 He adds: "We do not know when countries will reopen their borders or when the lockdowns will lift, and so we have to reimagine and reshape our airline and create a new future for our people, our customers and the destinations we serve."
Similarly, when SAS announced on 28 April that it would eliminate up to 5,000 full-time roles, the Scandinavian carrier said it was adapting to a "lower-demand environment" which could last for several years. A day earlier, Nordic neighbour Norwegian unveiled plans for a pared-back "new Norwegian" that would not start to take off until 2021 and would not reach some semblance of "normal operations" until 2022.
Unlike European rivals such as Air France-KLM – which has secured billions of euros of government funding to see it through the Covid-19 crisis – BA's parent company, IAG, appears to be shunning the possibility of a government bailout. Instead, it is seeking to dramatically cut the workforce of its largest carrier and slim down its operation in preparation for a recovery period which BA chief financial officer Stephen Gunning warns is "expected to take several years".
Cruz notes in his letter that "there is no government bailout standing by for BA and we cannot expect the taxpayer to offset salaries indefinitely". Any money borrowed now, adds Cruz, would "only be short-term and will not address the longer-term challenges we will face".
John Strickland, director of JLS Consulting, says BA's actions show that it is "focusing on its vision of a significantly smaller and more challenging 'new normal', and trying to make early and structural preparation for this".
However, he adds: "Having said that, management will certainly be conscious of the political attention this will garner and of some potential ramifications for the wider industry."
BA's unions have reacted with horror to the news of such significant potential redundancies, questioning why such action is being taken without first seeking some form of government support.
"Governments across Europe, in Spain, Germany and France, are working with trade unions and airlines to rebuild back better, keeping people in work while the sector recovers. We simply cannot understand why Alex Cruz is not doing the same, unless he has sought an opportunity to see other airlines fail so that BA can profit," states Len McCluskey, general secretary of the Unite union.
If BA's long-term rival Virgin Atlantic fails to secure any support from the UK government, McCluskey's suspicions could come true.
After all, Virgin Group founder Richard Branson made that carrier's predicament clear when he wrote in a 20 April blog post: "Together with the team at Virgin Atlantic, we will do everything we can to keep the airline going – but we will need government support to achieve that in the face of the severe uncertainty surrounding travel today and not knowing how long the planes will be grounded for."
This is analysis is written by Kerry Reals for Cirium's reporting team