Starlux Airlines has listed on the Taiwanese stock exchange, as the airline eyes expansion opportunities with a travel recovery in full swing.
The airline is currently listed in the Taiwan Stock Exchange's Emerging Stock Board, a preliminary trading board before an IPO. The listing comes more than two years since Starlux – founded by former EVA Air chairman Chang Kuo-wei – began operations.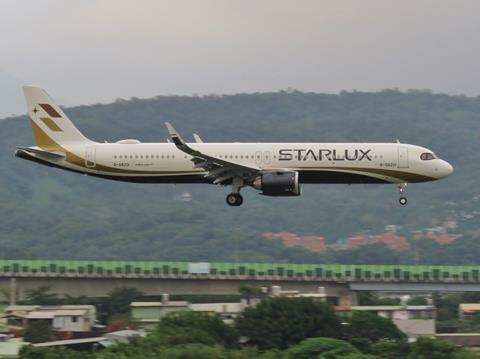 According to stock exchange information, the airline remains loss-making: it posted an operating loss of NT$2.4 billion ($75.6 million) for the three months to 30 June, and was NT$3.2 billion in the red for 2021.
Still, the airline is optimistic about its near-term opportunities, especially with Taiwan announcing plans to ease travel curbs from mid-October.
In a statement announcing its listing, Starlux says: "With the gradual relaxation of border measures in various countries and the recovery of the tourism market…revenue from January to August this year increased by 131% compared with the same period last year."
With Taiwan's travel restrictions set to lift from 13 October, Chang, who is airline chairman, says the seond-half of 2022 "is the peak period for Starlux", with the number of flights in the fourth quarter of the year set to see a two-fold quarter-on-quarter rise.
Starlux adds that it will be launching flights to Okinawa and Sapporo in Japan on 28 October, with flights to Da Nang in Vietnam to follow after.
It is also due to take delivery of its first Airbus A350 in October, which it will deploy on long-haul flights to North America in 2023. By the end of the year, Starlux says it will have a fleet of 19 Airbus jets, including A330neos and A321neos.